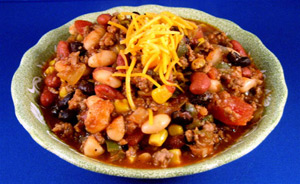 This recipe is great for a large crowd or a buffet dish. I call it Calico Chili because I use different colored beans and corn. 2 lb Lean Ground Beef or Turkey
1 Cup Chopped Onion
1 Cup Chopped Green Bell Pepper
16 oz Can Diced Tomatoes
16 oz Jar Mild Salsa (medium or hot, if you prefer)
16 oz Can White Beans, drained
16 oz Can Light Red Beans, drained
16 oz Can Black Beans, drained
16 oz Can Whole Kernel Corn, drained
16 oz Can Tomato Sauce
2 Teaspoons Salt
4 Teaspoons Chili Powder
1 Bay Leaf
Shredded Cheddar Cheese for topping
In Dutch oven, cook meat, onion and green pepper till meat is lightly browned and vegetables are tender. Stir in remaining ingredients. Cover and simmer for 1 hour. Remove bay leaf.
Serve in a bowl with shredded cheddar cheese and corn bread.

Disclaimer: LittleShamrocks.com is an affiliate website that receives commissions from sales of the products listed. We have purchased and sampled many, but not all, of the products on these pages.

© Copyright LittleShamrocks.com. All Rights Reserved.