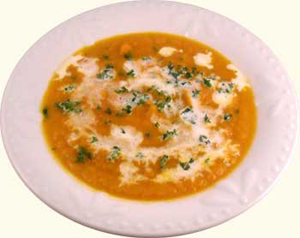 2 tbsp. olive oil
2 lb Carrots, peeled, sliced
1 Large Onion, finely chopped
6 Garlic Cloves, peeled
5 Whole Cloves
4 Cups Canned Vegetable Broth or Water
1 Tablespoon Fresh Lemon Juice
Pinch of Sugar
1/4 Cup Chilled Whipping Cream
Chopped Fresh Parsley
Heat oil in large heavy saucepan over medium heat. Add carrots, onion, garlic, and cloves; sauté until onion is translucent, about 8 minutes. Add 3-1/2 cups broth. Cover and simmer until carrots are very soft, stirring occasionally, about 30 minutes.
Remove cloves from broth and discard. Puree soup in batches in blender. Return soup to same saucepan. Mix in lemon juice and sugar. Season to taste with salt and pepper. Thin to desired consistency with more broth.
Whisk cream in medium bowl just until slightly thickened, about 10 seconds. Stir soup over medium heat until heated through. Ladle into bowls. Drizzle with cream and top with parsley.

Disclaimer: LittleShamrocks.com is an affiliate website that receives commissions from sales of the products listed. We have purchased and sampled many, but not all, of the products on these pages.

© Copyright LittleShamrocks.com. All Rights Reserved.