Irish Whiskey Eggnog Cheesecake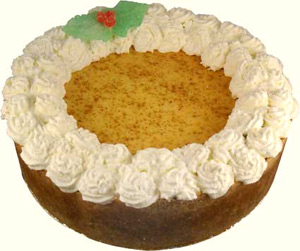 Crust:
1 Tablespoon Unsalted Butter, softened
2 Cups Graham Cracker Crumbs
1 Cup Granulated Sugar
1/2 Teaspoon Ground Nutmeg
1/2 Cup plus 2 Tablespoons Unsalted Butter, melted
Filling:
5 8 oz Package Cream Cheese, softened
1 1/2 Cups Granulated Sugar
5 Large Eggs (Room Temperature)
1/4 Cup Irish Whiskey
3/4 Cup Eggnog
Topping:
1 Cup Heavy Cream
1 Tablespoon Powdered Sugar
Dusting of Ground Nutmeg
Preheat oven to 325F.
I have found that a 10-inch non-stick springform pan is the best size for cheesecakes.
Coat bottom and sides of a 10-inch springform pan with softened butter.
Using a fork, combine graham cracker crumbs, 1 cup sugar, nutmeg and melted butter in a medium bowl until well blended. Then evenly press crumb mixture onto the bottom and all the way up the sides of buttered pan. Set aside.
Beat cream cheese in a mixing bowl until smooth. Add 1 1/2 cups sugar and beat until smooth, scraping down sides of bowl as needed. Add eggs, one at a time, making sure to scrape sides after each addition. Beat until well incorporated and very smooth. Beat in Irish whiskey and eggnog until well mixed. Pour into prepared pan and bake in preheated oven for approximately 1 hour and 30 minutes or until center is the consistency of set gelatin. Do NOT remove it from the oven.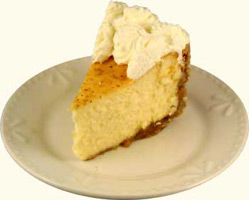 Turn off heat, place a wooden spoon in the oven door to keep it open just a crack and let cool in the oven for 3 hours. Remove from oven and finish cooling on a wire rack. Do NOT remove springform pan and keep refrigerated until ready to serve.
Just before serving, whip heavy cream with confectioners sugar. Slide a knife around the springform, remove it and place the cake on a plate. Garnish top of cake with whipped cream rosettes and dust with ground nutmeg.

Disclaimer: LittleShamrocks.com is an affiliate website that receives commissions from sales of the products listed. We have purchased and sampled many, but not all, of the products on these pages.

© Copyright LittleShamrocks.com. All Rights Reserved.