Irish Apple Maple Pork Chops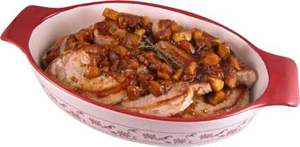 4 6 oz Boneless Pork Loin Chops
1 Tablespoon Olive Oil
2 Cloves Garlic, minced
1/4 Cup Good Irish Whiskey or Bourbon
1/2 Cup Chicken Broth
1/4 Cup
Ben's Pure Maple Syrup
1 Apple, washed, peeled, cored and chopped
1/4 Teaspoon Fresh Thyme
Salt & Pepper to Taste
Cook pork chops in a heavy skillet about 10 - 12 minutes on medium heat. Do not cover cook the chops. Remove and keep warm.
Add to the skillet the oil, garlic, bourbon and cover. Cook over high heat 1 minute. Add the chicken broth, maple syrup, apple, salt & pepper cooking until slightly thickened, about 5 minutes. Stir in the thyme and cook 1 minute.
Serve sauce over the chops. Can be served with either spuds or noodles!

Disclaimer: LittleShamrocks.com is an affiliate website that receives commissions from sales of the products listed. We have purchased and sampled many, but not all, of the products on these pages.

© Copyright LittleShamrocks.com. All Rights Reserved.