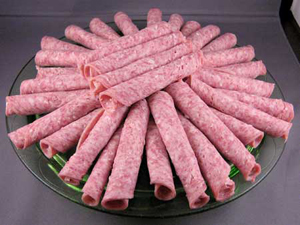 1 Pound Genoa or Hard Salami, sliced thinly at the deli
1 8 oz Package Cream Cheese
Cut the cream cheese into 1/4 inch slices, then into 1/4 inch strips. Place one strip of cheese onto one salami slice. Roll the salami into a tight roll.
Place into a container and chill until rolls are set. Arrange on a platter in a starburst pattern. Serve as an appetizer.

Disclaimer: LittleShamrocks.com is an affiliate website that receives commissions from sales of the products listed. We have purchased and sampled many, but not all, of the products on these pages.

© Copyright LittleShamrocks.com. All Rights Reserved.