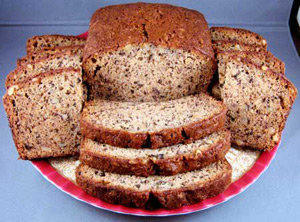 This recipe has been contributed by my sister, Andi. It is the best I have ever eaten. I am sure you will love this super moist banana bread!
1 3/4 Cups Flour
1 1/2 Cups Sugar
1 Cup Chopped Walnuts
2 Medium Bananas, mashed
2 Eggs
1/2 Cup Vegetable Oil
1/4 Cup plus 1 Tablespoon Buttermilk
1 Teaspoon Baking Soda
1 Teaspoon Vanilla
1/2 Teaspoon Salt
Preheat oven to 350F.
Combine all ingredients until well blended. Pour into a 9" x 5" greased and floured bread pan. Bake at 350 for about 1 hour, until top is golden and slightly split.
Check with the toothpick test to be sure the center is done. Remove from bread pan, immediately wrap in foil and cool in the refrigerator.
Do not double the recipe.

Disclaimer: LittleShamrocks.com is an affiliate website that receives commissions from sales of the products listed. We have purchased and sampled many, but not all, of the products on these pages.

© Copyright LittleShamrocks.com. All Rights Reserved.