Irish Jewelry
Irish Shillelaghs
Irish Handkerchiefs
We drove up Hill Street to Planxty McGuire's and, before we could get out of the car, John pulled in beside us. He told us that his guesthouse wasn't quite ready to occupy so he had made other arrangements for us. We followed him out the road to Dromod and down a country lane. When we drove around the roadside hedge, there it was ... a thatched cottage! We couldn't believe our eyes because we both love thatched cottages, and they are now few and far between. It could not have been a more perfect place to stay on our St. Patrick's Day vacation.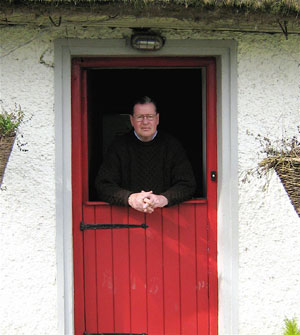 The area was called Cloonboney, Bornacoola, Co. Leitrim, about half way between Mohill and Dromod. John told us that the 200 year-old cottage belonged to his friend, Bernie Reynolds, who was of no relation to John. He had purchased it a few years back from the Mulligan family. The house was in disrepair so he restored it and added on a modern kitchen, bathroom and bedroom in the back. The original part of the house was so quaint. John said that he remembered visiting there as a child.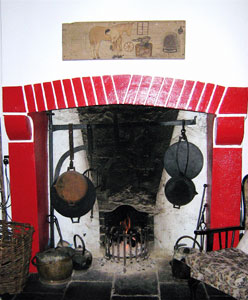 The living room-kitchen-dining room area was just as it was 200 years ago. It had the old hearth with all the cast iron cooking utensils and pans hanging from wrought iron hinged hangers. These would be pulled out above the fire grate and they would cook in the pots as they were heated by the fire. The dining table was in the same room, as was the living room. Some of the original furniture, lanterns and pottery were still there. The tiny windows had shutters on the inside and there was a half door on the front. It looked just like 'white-a-morn', which was the house in "The Quiet Man" movie with John Wayne and Maureen O'Hara.
There were four bedrooms in Cloonboney Cottage, three of which were original. The master bedroom also had a beautiful fire place. There were two lofts located in the living area. John told us that when people stayed over night, and there was not enough room to sleep, they would climb up into the lofts and sleep under the eaves.
John and Bernie had taken care of everything to make us comfortable. They had left us food, beverages, and plenty of peat to burn in the fireplace. When we told our friends that we were staying at a thatched cottage, everyone knew where it was. They would say, "Oh, Bernie's!" and "That's a lovely cottage!". It was the only thatched cottage in the area and we were so lucky to have had the chance to stay there. We can't thank John and Bernie enough for the opportunity.
Click here for the next story
More Cemeteries

Disclaimer: LittleShamrocks.com is an affiliate website that receives commissions from sales of the products listed. We have purchased and sampled many, but not all, of the products on these pages.

© Copyright LittleShamrocks.com. All Rights Reserved.