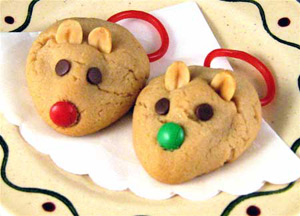 1 Cup Creamy Peanut Butter
1/2 Cup Butter, softened
1/2 Cup Sugar
1/2 Cup Packed Brown Sugar
1 Egg
1 Teaspoon Vanilla Extract
1 1/2 Cups All-Purpose Flour
1/2 Teaspoon Baking Soda
1/2 Cup Peanut Halves
2 Tablespoons Green and Red Miniature M&M's
4 Teaspoons Miniature Semi-Sweet Chocolate Chips
48 Pieces Red Shoestring Licorice cut 2 inches long
Preheat oven to 350F.
In a large mixing bowl, cream peanut butter, butter, sugar and brown sugar. Beat in egg and vanilla. Combine the flour and baking soda; gradually add to the creamed mixture. Refrigerate for 1 hour or until easy to handle.
Roll into 1 inch balls. Place 2 inches apart on ungreased baking sheets. Pinch each ball at one end to taper. Insert 2 peanut halves in center of each ball for the ears. Add one M&M for the nose and 2 chocolate chips for the eyes.
Bake at 350 for 10 minutes or until set. Gently insert one licorice piece into each warm cookie for the tail. Let cool in pan for 4 minutes, then remove to wire racks to cool completely. Yield: 4 dozen

Disclaimer: LittleShamrocks.com is an affiliate website that receives commissions from sales of the products listed. We have purchased and sampled many, but not all, of the products on these pages.

© Copyright LittleShamrocks.com. All Rights Reserved.