Tyna's Cranberry Orange Scones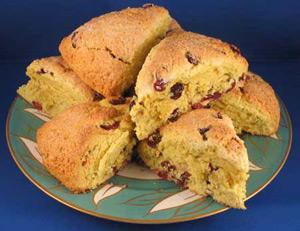 1 Package
Odlums Quick Scone Mix
- White
2 Tablespoons Grated Orange Peel
2 Tablespoons Orange Juice
1/2 Cup Dried Cranberries
1 Tablespoon Milk
1 Tablespoon Sugar
Preheat oven to 400F.
Prepare scone mix as directed on the package, replacing 2 tablespoons of orange juice for 2 tablespoons of the milk, and adding the orange peel before mixing.
Turn out onto lightly floured surface and knead in the cranberries about 10 times. Form into a ball and flatten into an 8 inch circle on an ungreased cookie sheet.
With a sharp knife cut in 8 wedges, cutting completely through the dough, but leaving the circle in tact.
Brush surface with milk and sprinkle with sugar. Bake for 25 to 30 minutes until golden brown. Cool 10 minutes in the pan on a wire rack. Break apart to serve. Serve warm with butter and jam.

Disclaimer: LittleShamrocks.com is an affiliate website that receives commissions from sales of the products listed. We have purchased and sampled many, but not all, of the products on these pages.

© Copyright LittleShamrocks.com. All Rights Reserved.