Tyna's Grilled Potato Halves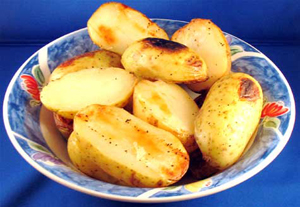 6 Medium Potatoes
Butter Flavored Cooking Spray
Salt & Pepper to Taste
Preheat grill to low heat
Scrub and cut potatoes in half lengthwise. On a large piece of heavy-duty aluminum foil, spray with cooking spray and top with salt and pepper.
Place potato halves cut side down onto foil. Spray, salt and pepper the tops of the potatoes. Place another piece of foil on top. Fold in edges and secure the foil into a cooking pocket.
Place directly onto the grill. Cook for 15 minutes then turn over for another 15 minutes. Potatoes will be brown and roasted. Serve with butter or your other favorite toppings

Disclaimer: LittleShamrocks.com is an affiliate website that receives commissions from sales of the products listed. We have purchased and sampled many, but not all, of the products on these pages.

© Copyright LittleShamrocks.com. All Rights Reserved.