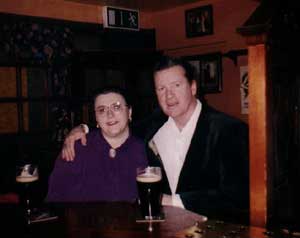 Christina Iris (Tyna) Willett ... Is this an Irish name? No, but I have Irish heritage that goes back generations to the Irish Potato Famine when my great, great-grandparents came to this country from Ireland. I believe that they came from the northern or western part of Ireland, from Connaught, in the Co. Leitrim, Co. Sligo or Co. Mayo area. They came via the "coffin ships" to Quebec, stopping at the quarantine island, Isle Grosse.
Their names were Michael Casey and Mary Anne Dennehy and they moved from Canada into the United States to Burlington, Vermont. They settled there and had four children, three boys and one girl, Anna Casey, my great-grandmother. Other than Anna, I have not been successful in tracing the other children. They may have returned to Ireland.
Anna married Edward Willett, Jr. of Burlington. They had three children, Jeremiah, Charles and Clara. Jeremiah was my grandfather. He married Elvira Loiselle and they had seven children, Joseph, Louis, Donald, Gertrude, Ruth and twins, Anna and Laura. My father, Louis, was always extremely proud of his Irish heritage. I remember, from a very young age, that there was always mention of Ireland and the wearing of the green on St. Patrick's Day. My father married Aline Adams and had three daughters, Andrea, Mary Lou and me. Dad looked Irish with almost black hair, light skin and light eyes. I take after him.
Terence Patrick (Terry) Reynolds is my friend and companion with whom I have traveled to Ireland several times. I have learned so much about his roots that I feel like I am one of his family. He is 100% Irish on both sides. Born in South Boston, he has the pride of the Irish running through his veins like the River Shannon. On his father's side, his Irish heritage is Reynolds, Clarke, O'Brien and Shanly. On his mother's side, there are Cochlin, Hennessy and Sullivan.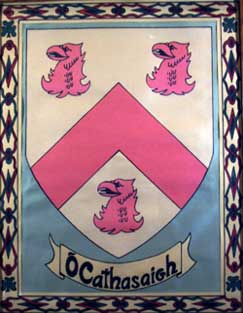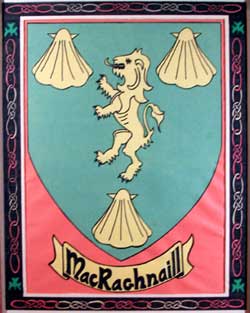 Terry knows more about his Irish heritage because his family is much newer to America than mine. His grandfather, Terence Reynolds, came to Boston from Co. Leitrim in 1902. He was soon joined by his brother, Hugh, and his sister, Catherine. Terence married Margaret Clarkewho had come from Co. Meath near Dublin in 1903. They had six children, Terence, James, Richard, Francis, Evelyn and Catherine. Terence married Sarah Cochlin and had seven children, Sally, Terence Patrick, James, Richard, Paul, Gerard, and Barbara.
On the other side of the family was his grandmother, Mary Adelaide Hennessy Cochlin, who was the secretary of the Hibernian Society of Boston in the early twentieth century. Her mother was a relative of the great John L. Sullivan, "The Boston Strongboy", who was the Bare Knuckles Championship Boxer from 1882 to 1892. Terry looks like his mother with auburn hair, blue eyes and a ruddy complexion.
The Irish Family Crest and Heraldic information is precious to our descendants. Why not create your own family heirloom with a Personalized Family Name History & Coat of Arms Framed Print
To read about our adventures researching Terry's roots on our trip to Ireland check out
Our Irish Genealogy.

Disclaimer: LittleShamrocks.com is an affiliate website that receives commissions from sales of the products listed. We have purchased and sampled many, but not all, of the products on these pages.

© Copyright LittleShamrocks.com. All Rights Reserved.