Beannachtaí an tSéasúir (Season's Greetings),
Wow, it's December of 2010 already! It seems like we just celebrated the millenium a couple of weeks ago. Well, here we are in the middle of the holiday season and I'm hoping that we will have a white Christmas. It is usually snowy in the northeastern USA during the holidays so I probably won't be disappointed.
While searching through Irish records, I found the following bit of information on how the Irish used to name their children. I think this could be a very good tool to find parents, grandparents and other family names. This could get confusing with two daughters or two sons with the same names but it is an interesting method.
Old Irish Naming Patterns:
Sons:
1st son was named after the father's father
2nd son was named after the mother's father
3rd son was named after the father
4th son was named after the father's eldest brother
5th son was named after the mother's eldest brother
Daughters:
1st daughter was named after the mother's mother
2nd daughter was named after the father's mother
3rd daughter was named after the mother
4th daughter was named after the mother's eldest sister
5th daughter was named after the father's eldest sister
I have a lot of new genealogical information to report for both Terry's and my ancestor search. We completely missed a key piece of information about one year ago. Terry's cousin, Richie, had shared some documents he had found on their grandfather, Terrence Reynolds, and their great uncle, Hugh Reynolds. Their draft cards were hand-written by each of them but the ink was blurry and faded in some spots. I enlarged them and found that Hugh had written his hometown in Ireland as Aughavas. I couldn't believe my eyes, and it's so important! We knew that they came from County Leitrim but we didn't know exactly where. Now we can concentrate on Aughavas and, hopefully, we will find where they lived and where their family was laid to rest. Phil O'Brien told us that the church in Aughavas is very helpful to people searching for their ancestors.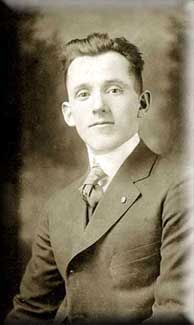 Hugh Bernard Reynolds
As far as my Casey's go, I learned a mountain of information a few weeks ago in just a couple of days. It may not sound like much, but compared to the number of years I have been searching, it was huge. My great-great grandfather, Michael Casey, had traveled to Canada with his entire family during the Irish potato famine. On June 11, 1846, Michael Casey, wife and children, a party of nine, were passengers aboard the SS Lord Sydenham, a river steamer that transported the famine immigrants from the quarantine island of Isle Grosse to Montreal, Quebec. They were taken to temporary housing while waiting to be transported to their new homes. I don't have the exact date but, within a few days, still in June, they were aboard the same steamer on their way to employment at the farm of the MacGough (Magoo) family in Lindsay, Peterborough County, Ontario, Canada. We always thought that they had remained in Montreal, so no wonder we couldn't find anything there!
The next bit of info is very confusing. This Michael Casey, who was the head of the family of nine, was actually the father of my great-great grandfather, Michael, so I learned the name of his father, who was my great-great-great grandfather. My Michael was only 15 years old when he arrived in 1846. I have not been able to confirm the next tidbit, so I am making an educated guess. I believe that he met his wife, Mary Ann Denning, at the farm where his family was employed. They were married soon after and their first born son, also Michael, was born in 1848, followed by Patrick, Edward, Anna and Katherine. In 1861, Mary Ann and the children moved across the Canadian border to Burlington, Vermont, but Michael did not accompany them.
My sister had sent me a link to Ancestry.com about someone who had posted that he was looking for information about Patrick Casey. Michael and Mary Ann's second son was Patrick, who was married to Lizzie Denning, and had two children, Katherine and Timothy. After contacting this person, I found that he is a distant cousin named Douglas Geiste from Connecticut. His line descended from Patrick Casey and mine descended from Anna Casey Willett.
Do you remember these two photos that I had posted on LittleShamrocks.com several months ago? They were supposed to be my great grandmother, Anna Casey Willett, and her husband, Edward Willett, Jr. Unfortunately, our distant cousin was mis-informed; they were ancestors from another branch of his family and no relation to us or the Casey's. He let us know as soon as he learned of the error. Sorry about that.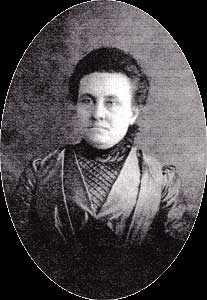 Anna Casey Willett
Patrick and Lizzie's daughter, Katherine, passed away at the age of 26. The obituary stated that she was being cared for by her aunt, Miss Katherine Casey, sister of Patrick and Anna. It also stated that she lived with her grandmother, Mrs. William (Caroline?) Denning of Burlington. I found a link to a Denning family in the 1870 and 1880 Burlington censuses, but I still don't know if Lizzie and her Denning family were related somehow to Mary Ann's Denning family. One interesting piece of info about these Dennings is that it shows two sets of twins, and there were twins born to my grandmother, Elvira Loiselle Willett, who married Anna's son, Jeremiah. It could be that the twins passed down from the Denning side of the family. Doug also said that his grandmother spoke of her family coming from County Leitrim, Ireland. I don't know which one of his grandmothers he was speaking of but I am awaiting that information. That would be another coincidence because that's where Terry's ancestors were from, and we've been there seven times in the past 13 years. Unbelievable!!
Noeleen McCool has submitted her next
'News From The North'
issue about spending the holidays in Belfast. It sounds like a lovely place to spend this special time of year.
LittleShamrocks.com has a new partner in sharing information about Ireland and the Irish. It is An Lar TV, a public access channel for and about the Irish who wouldn't ordinarily have access to commercial TV. It's similar to our community access TV, and it's on the air 24/7 and online as well.
Nollaig Shona Daoibh! (Happy Christmas to you all!)
Athbhliain faoi! (Happy New Year!)

Sláinte,
Tyna

Disclaimer: LittleShamrocks.com is an affiliate website that receives commissions from sales of the products listed. We have purchased and sampled many, but not all, of the products on these pages.

© Copyright LittleShamrocks.com. All Rights Reserved.