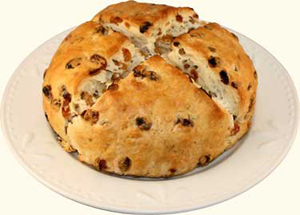 From the kitchen of Noeleen McCool 4 Cups All-Purpose Flour
1/2 Teaspoon Salt
1/2 Teaspoon Baking Soda
1 Tablespoon Sugar
1 3/4 Cups Sultanas
1 1/2 Cups Buttermilk or Sour Milk, reserve 1 tablespoon
Preheat the oven to 400F.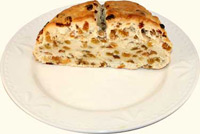 Sift the dry ingredients into a bowl, add sultanas and make a well in the centre. Reserving 1 Tablespoon milk, pour the remainder into the well, mixing in flour from the sides, until it forms a dough. Turn out on to a lightly floured board and shape to form a flat cake 2 inches thick. Using a sharp knife, make a cross on the top. Brush with the remaining milk and bake for 30 minutes. Spread with butter and enjoy with a cup of tea.

Disclaimer: LittleShamrocks.com is an affiliate website that receives commissions from sales of the products listed. We have purchased and sampled many, but not all, of the products on these pages.

© Copyright LittleShamrocks.com. All Rights Reserved.