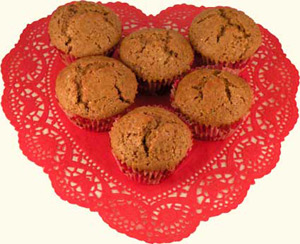 2 Cups Flour
2 Teaspoons Baking Powder
1/2 Teaspoon Salt
1/3 Cup Sugar
1 Tablespoon Instant Coffee Granules
2 Tablespoons Coffee Liqueur
2 Tablespoons Irish Whiskey
Milk
1 Egg
1/2 Cup Melted Butter or Margarine
Preheat oven to 375F.
Line 12 muffin-tin cups with paper liners.
In a bowl, combine flour, baking powder, salt and sugar. Stir well.
In a 1 cup measure, dissolve coffee granules in coffee liqueur and whiskey. Add enough milk to measure 1 cup. Whisk egg in a bowl with coffee-milk mixture. Whisk in melted butter.
Gently stir liquid into dry ingredients just until moistened. Spoon into muffin tin. Bake at 375° F. for 25 minutes, or until the top springs back when gently touched. Yield: 1 dozen

Disclaimer: LittleShamrocks.com is an affiliate website that receives commissions from sales of the products listed. We have purchased and sampled many, but not all, of the products on these pages.

© Copyright LittleShamrocks.com. All Rights Reserved.