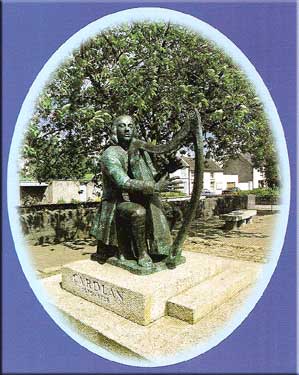 Statue of Turlough 0'Carolan in Mohill, Co. Leitrim
The Irish harpist referred to in this article is Turlough 0'Carolan, who was the most famous of Ireland's harpists. Turlough, sometimes spelled Turloch, is the Gaelic name for Terence. In 1670, Turlough O'Carolan was born in County Meath. His father moved the family to Alderford in County Roscommon where he worked for the Mac Dermott Roe family. Mrs. Mac Dermott Roe took a liking to young Turlough. When he contracted smallpox at the age of eighteen, he was left blind. Mrs. Mac Dermott Roe arranged for him to learn the harp from a member of her family. She supported him until he turned twenty-one, when he set off on his career as an itinerant harpist.
Along with other blind harpists, Turlough traveled the countryside on horseback guided by a helper. They were received as honored guests and were treated most hospitably at all the great houses where they performed. O'Carolan was considered more of a composer than a harpist, since he learned the instrument at a late age. He was regarded as being a cut above his fellow musicians, even though his talent on the harp was less than the rest. After a musically productive life, he died at Alderford, County Rosscommon, in 1738.
After his death, his reputation as a composer continued to grow and many collections of his music were published during the eighteenth century, including THE HIBERNIAN MUSE published in London during the second half of the eighteenth century; A GENERAL COLLECTION OF THE ANCIENT IRISH MUSIC published in Dublin and London in 1796. The trend continued in the nineteenth and twentieth centuries and, in 1958, a two-volume work entitled CAROLAN, THE LIFETIMES AND MUSIC OF AN IRISH HARPER was published.
Musically speaking, O'Carolan was unique and unusual in three elements of influence in his music: (1) Irish harping, which was an ancient tradition, was to die out by the close of the eighteenth century; (2) The traditional Irish dance music and folk songs; and, very importantly, (3) the music of the most famous Italian composers of his day. These three unequaled elements of his music produced an extraordinary occurrence never before found in the history of Irish music.
Turlough O'Carolan does not fit comfortably into any musical category and, is therefore, an interesting, but puzzling, musical figure. His one-of-a-kind style has never interfered in his success since his own day and his music has been more popular and widely played than in the past.
We don't know how O'Carolan or other blind harpists played this or any other music. It was an entirely oral lesson being handed down from teacher to pupil, and nothing was ever recorded on paper. Current performances of O'Carolan's music are put into arrangements of some type. Some of the arrangements vary by a wide margin and some have harpsichord solos or bass fiddle solos, which obviously were not originally played on the harp.
O'Carolan's music is simple and honest and, to quote Donal O'Sullivan in his book about O'Carolan, he feels that his music possesses "a kind of puckish joyousness ... with here and there a sunbeam captured from the perennial sunshine of Italy."
Turlough O'Carolan spent much time in County Leitrim and there is a bronze statue of him located in the town square of Mohill. County Leitrim is a neighboring county to Roscommon. Because of O'Carolan's fame in Ireland, the harp is included as a pictorial symbol of Ireland.
Many people have revisited his works in tribute. For tributes to his music or information about his life:

Disclaimer: LittleShamrocks.com is an affiliate website that receives commissions from sales of the products listed. We have purchased and sampled many, but not all, of the products on these pages.

© Copyright LittleShamrocks.com. All Rights Reserved.