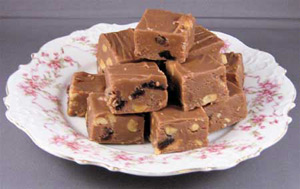 3/4 Cup butter
3 Cups Sugar
2/3 Cup Evaporated Milk
1 Jar Marshmallow Creme or Fluff (7 oz)
1 Package Milk Chocolate Chips (12 oz)
1 Teaspoon Vanilla
1 Cup Chopped Peanuts
1 Cup Raisins
In a large pan or Dutch oven, on medium heat, melt the butter, add sugar & evaporated milk and marshmallow, then mix well. Bring to a full boil, stirring constantly, for 5 minutes.
Remove from heat and stir in chocolate chips until completely melted and mixed thoroughly. Stir in the vanilla, then the peanuts and raisins until mixed well.
Pour into a greased 9 or 10 inch square pan and spread evenly. Chill until set and cut into about 1 inch squares. Yield: 3 pounds

Disclaimer: LittleShamrocks.com is an affiliate website that receives commissions from sales of the products listed. We have purchased and sampled many, but not all, of the products on these pages.

© Copyright LittleShamrocks.com. All Rights Reserved.