Coolabawn House is a Bed & Breakfast located on Station Road in Mohill, only a short distance from Main Street. Tina and Tim Slevin have operated their B & B for many years and have been very successful. The house is a pretty pale yellow, enclosed in a gated yard. We had a lovely double room, en-suite (bathroom included), and it was decorated with beautiful accessories and bedding ensembles. The bathroom was equipped with a hair dryer, shampoo, conditioner and soap in a dispenser on the shower wall. We were very comfortable in our room.
They had a bright glassed-in sitting room in the back by the kitchen. It overlooked the patio and gardens. Everyone told us how beautiful the gardens were and we were totally impressed. There were gorgeous flowers, bushes, shrubs, large hedges and trees, including fruit trees. Some very large trees, that I had never seen before, were located at the far end of the garden. Tina said that they are called Monkey's Puzzles. They have odd spiny foliage and the branches look like monkey tails. There was a waterfall with a fish pond at the bottom and several large fish swimming around. I took a photo of one looking for some food. The pond was covered with netting, so the herons wouldn't bother the fish. It was a peaceful place to be, just to sit and look at the scenery.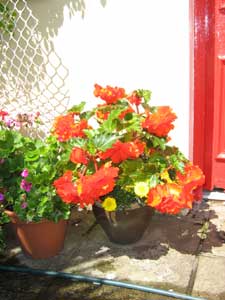 Even though the garden was impressive, Tina's homemaking was equal to it. The house was immaculate and one could tell that she worked hard at keeping it that way, including ironing her sheets. She was known as a fabulous cook, and we thought so too. Other than the super breakfasts, she was always cooking or baking something. While we were her guests, she made orange marmalade, black currant jam, scones, brown bread, apple tarts, rhubarb tarts, coffee cakes and porter cakes. We were lucky that we got to sample everything... Yummy! Tina gave me two recipes to add to our Irish Recipes section...one for
porter cake
and one for
plum pudding
. Soon you will be able to see the finished products along with the recipes.
Tina and Tim's daughter, Fiona Slevin, is a published author. She has written two books about the Lough Rynn Estate. The first one is a paperback
Recipes & Remedies from Lough Rynn (Lough Rynn History)
, which includes authentic writings by Lord Leitrim's housekeeper from the 1800's. Some of the remedies show diseases and ailments that 19th century Irish people suffered from, including cancer. One remedy for cancer of the lips and gums says to boil down olive oil to the consistency of ointment and apply it to the affected area. It says that it would be cured in 14 days and nothing else was needed.
Fiona's second book is a hardcover By Hereditary Virtue:
By Hereditary Virtues: a History of Lough Rynn
. This book is filled with information that has been gathered from actual documents from libraries, colleges and other Irish institutions. Starting with the Mac Raghnaill Clan, the earliest "Lords" of Rynn, the contents are factual and contradict some of the rumors and old tales about the Earls of Leitrim. A major part of the book is devoted to the Third Earl of Leitrim, William Sydney Clements. His reputation was that of a tyrant but he was also the catalyst for many improvements to his estate, County Leitrim, and for it's residents.
Our stay at Coolabawn House was a pleasure and we will have fond memories of our visit with the Slevins.
More information about
Coolabawn House
.
Click here for the next story
Around & Around Co. Leitrim
.

Disclaimer: LittleShamrocks.com is an affiliate website that receives commissions from sales of the products listed. We have purchased and sampled many, but not all, of the products on these pages.

© Copyright LittleShamrocks.com. All Rights Reserved.