Baked Ham With Pineapple & Brown Sugar Glaze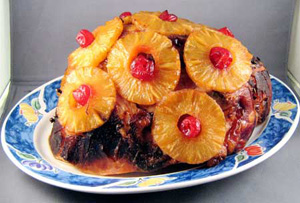 1/2 Ham (your choice of your favorite cut)
1 Can Pineapple Slices, drained (reserve liquid)
1 Small Jar Maraschino Cherries (reserve liquid)
1/3 Cup Packed Brown Sugar
Whole Cloves
Preheat oven to 325F.
Place ham, cut side down, in baking pan. Score the rind about 1/8 inch deep into 1 1/2 inch diamonds. Insert a clove into the center of each diamond. Arrange pineapple slices over the exposed area by inserting a cherry in the center of each one with a toothpick.
Mix the pineapple liquid with the brown sugar and 2 tablespoons of cherry liquid. Pour over the ham and bake according to your recipe. Baste ham and pineapple about every 30 minutes to coat pineapple and keep it moist.
Remove from oven and let rest for about 30 minutes before slicing. Remove toothpicks, pineapple, cherries and cloves. Pineapple and cherries go well served on the side.

Disclaimer: LittleShamrocks.com is an affiliate website that receives commissions from sales of the products listed. We have purchased and sampled many, but not all, of the products on these pages.

© Copyright LittleShamrocks.com. All Rights Reserved.