Irish Raisin-Apple Scones (from Claridge's Hotel, London)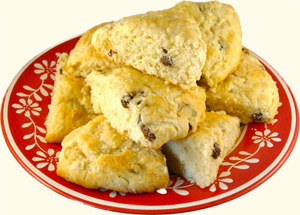 3 Cups Self-Rising Flour
1/2 Cup Sugar
3/4 Cup (1 1/2 sticks) Unsalted Butter, cold and cut into small pieces plus more at room temperature for serving
1 Cup Buttermilk
1 Large Egg, beaten
1 Small Green Apple, peeled, cored, and grated
1/3 Cup Raisins
Sugar Crystals for Sprinkling
Clotted Cream for serving
Preheat the oven to 350F.
Line a baking sheet with parchment paper.
Combine the flour and sugar in a food processor. Add the cup of butter and pulse 8 to 10 times, or until the mixture resembles coarse crumbs. Transfer to a large bowl, then stir in the buttermilk and egg with a wooden spoon until a soft dough begins to form.
Transfer the dough to a lightly floured work surface and, with floured hands, knead in the apples and raisins. Divide the dough in half and form each half into a ball. Flatten each into a 1-inch thick disk. Place on the prepared baking sheet and, with a serrated knife that has been dipped into flour, score the dough into 6 wedges. Sprinkle the tops with sugar crystals. Alternatively, you can bake these in large (8) or mini (16) cast-iron scone pans.
Bake the scones for 25 to 30 minutes, or until the tops are golden and a skewer inserted into one of the wedges comes out clean. Remove from the oven and let cool for 10 minutes. Serve warm with butter or clotted cream, if desired. Makes 12 scones.

Disclaimer: LittleShamrocks.com is an affiliate website that receives commissions from sales of the products listed. We have purchased and sampled many, but not all, of the products on these pages.

© Copyright LittleShamrocks.com. All Rights Reserved.