Beef Pot Roast with Beans in Red Wine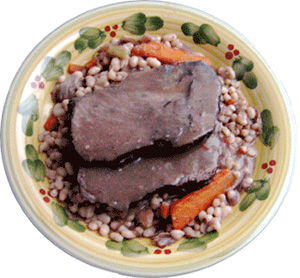 1 lb Dry White Beans, soaked overnight
1 Carrot, quartered
1 Stalk Celery, chopped
1 Onion, quartered
Salt and Pepper
3 1/2 lb Beef Pot Roast, tied with string
2 Tablespoons Butter
2 Tablespoons Olive Oil
2 Large Onions, chopped
2 Carrots, diced
4 Garlic Cloves, crushed
1 1/4 Cups Dry Red Wine
1 Bouquet Garni ** recipe below
1 Cup Beef Stock
Wash beans under cold running water in a colander. Place them into a bowl, cover generously with cold water and leave to soak overnight, then rinse and drain again.
Place the beans into a large saucepan, cover with water and add the pieces of carrot, celery and onion. Bring to boing point. Cover and simmer for 1 hour or until the beans are tender, adding more water to the pan as necessary. Drain the beans and vegetables and set aside.
Season the beef with salt and black pepper. Melt the butter with the oil in a heavy saucepan and brown beef all over. Remove the beef from the saucepan and add the onion and carrots. Fry over a moderate heat until they begin to soften. Stir in the crushed garlic and the wine. Add the bouquet garni and bring to a boil. Scrape the bottom of the pot to loosen any browned bits, then put the beef back into the saucepan and add the stock. Cover and simmer for 1-1/2 hours, turning the meat over several times and adding a little hot water if necessary.
Stir in the beans and cook for 30 minutes longer. Lift the beef out onto a plate, cover with foil and leave to rest for 10 minutes before removing the strings and cutting the meat into thick slices.
Discard the bouquet garni and lift out the beans and vegetables into a warm serving dish with a slotted spoon.
Boil down the liquid in the saucepan to thicken it slightly, tasting it and adding seasoning if required. Serve the slices of meat on top of the beans and vegetables accompanied by the thickened juices and cooked potatoes or rice.
** Bouquet Garni
1 bay leaf, 3 sprigs of thyme, 4 large sprigs of parsley (including stalks), one 4-inch piece of celery stalk with leaves, two 4-inch pieces of leek (green part) and 5 whole peppercorns.
Place the bay leaf, thyme, parsley and celery on one piece of green leek. Cover with remaining piece of green leek. Tie securely with fine string, leaving a length of string attached so that the bouquet garni can be easily retrieved.

Disclaimer: LittleShamrocks.com is an affiliate website that receives commissions from sales of the products listed. We have purchased and sampled many, but not all, of the products on these pages.

© Copyright LittleShamrocks.com. All Rights Reserved.