How to become a web site expert & create your own income generating web site!
Ken Evoy's SiteBuildIt is a remarkable new approach to building a small business web site. It is completely opposite from the common "Build a web site in 2 minutes!"ť approach. SiteBuildIt is about a careful, precise, long-term approach to site building.
SiteBuildIt is so much more than just a complete set of tools for building a web site, it is a complete ground-up education in internet marketing.
They have thought of everything!
They even have special knowledge sections for most types of businesses including real estate, service providers, marketers, eBay sellers, webmasters, and online stores. SiteBuildIt also has online support & discussion forums where you can learn from other people's experiences or ask a question.
SiteBuildIt not only provides all the tools you need to create your own income generating web site for one fixed price, they teach you what you need to know, and show you how to do it!
SiteBuildIt also handles all of the technology for you, so you can focus on your business. The education is really top-notch especially of you are new to the online marketing business.
Establish yourself as an online authority in your field
SiteBuildIt education creates the proper mindset by showing how the conventional format of a small business web site - the "brochure site" listing of products and services, is completely ineffective, and gets you to think about web sites in a whole new way. They show how to build a web site around what people are searching for. People are not searching the web for products, they are looking for information, and SiteBuildIt shows you how to provide that information and establish yourself as an expert, building trust with your visitors by "pre-selling", and creating an "open-to-buy" mindset. Their 10-day video guide to online marketing success can be viewed right now at the free Video Action Guide webpage.

SiteBuildIt is a 10 day plan, with the first 5 days focused on preparation. They want you to be ready before they set up the site for you. You don't even start to build your site until day 6, but then you are super-prepared with all the knowledge you need and a detailed plan including a site map, content blueprint, and even a highly optimized domain name all created with the help of the outstanding SiteBuildIt tools.
Site Hosting and one domain name are included in the price, along with all the features you will need including mailing list manager, RSS feed, form builder, search engine submission, traffic and search engine monitors, and a lot more!.
When you get to Day 6 to start building your site you know What to Sell, Who to Sell it To, and How to Sell it!

One tool that is provided on Day 1 of your membership is this brainstorming tool powered by Wordtracker (which would cost you about $30/week, but is included free with Site Built It!). The brainstorming tool mines the archives of the search engines to uncover what people are searching for, and HOW they search for it.

Just enter your web site idea, such as "Irish food", that you want to research and you receive a full keyword analysis report that shows you how much search demand there is and also how to find the keywords that have the least amount of competition on the web.

You can then do detailed research on these keywords to find competitor sites, content, Google ad bid prices and a lot more. All the information is stored in your account, and is used to help create the site map and content blueprint for your site. The information is also used in the later phases of site building to help you find the most cost-effective advertising and the most profitable ways to monetize.

Another essential web site research tool is Search It!

Search It! is a collection of internet search tools and predefined searches that help you research content and other important tasks such as finding domain names and copyright research. The Action Guide walks you through the various types of searches you need to do in the research phase of building your site.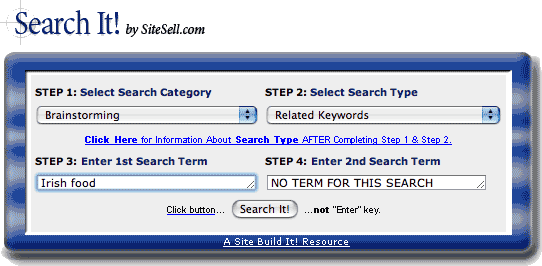 SiteBuildIt also gives you in-depth instruction on planning your web site, handling traffic, writing quality content, and more than a dozen ways to make money from your web site.
Build your web site the way you want.
When you have finished the research & preparation and it is time to start writing content and creating pages, SiteBuildIt give you two site building options.
If you have experience with web site building you can use your favorite web site editor like Adobe Dreamweaver or Microsoft FrontPage.
Even if you have never built a web site before, SiteBuildIt makes it easy with its SiteBuilder modules. With an extensive set of styles, buttons and logos that you can mix and match.
it just takes a few clicks to set up a web site look and feel, which you can change at any time. It is so easy to experiment with different styles until you find the one you like, even as you are building your site.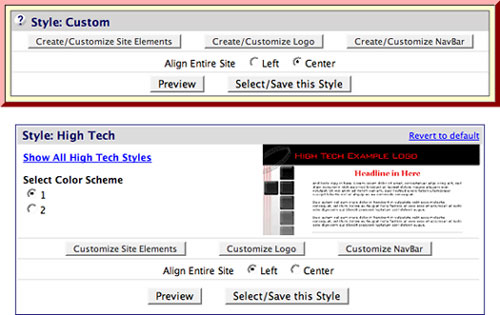 Adding a web page is also easy with SiteBuilder. You just fill out the form below and then paste in your page text. The page is built with a block-by-block method and you can select different block types for text, images, links, forms and headings.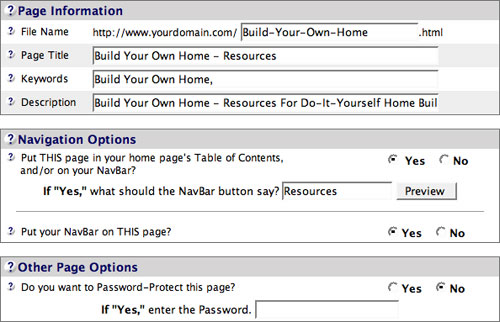 Want to see the site our webmaster just built for a client using SiteBuilder? Click here to visit
DIY-Home-Building.com
.
Everything you need to build your online business is included with SiteBuildIt.
The price is $299 per year. This is more than you would expect to pay for web hosting, but so much more is included with SiteBuildIt membership, and most of the features would be expensive "extras" with a conventional web host.(There is so much that is included, I really should put in on a separate page!)
Hosting is included as the core service of SiteBuildIt. You would normally expect to pay $75-$150 base price per year for hosting alone, but also if your web site gets a lot of traffic on a conventional web host there can be additional charges for bandwidth. SiteBuildIt hosting price is fixed regardless of the traffic.
SiteBuildIt includes the price of the annual domain registration which would cost you about $10-$20 per year.
A tool like BrainstormIt! would cost you $329/year at Wordtracker with a discounted annual rate.
The online business education is the most valuable feature of all. There are companies that will sell you similar information anywhere from $50 to over $1000!
The content management system would also cost hundreds if bought separately.
Traffic and search engine monitoring services could cost $30-$50 per month.
Also a mailing list manager, contact form builder, a library of e-books that you can give away as promotions, discussion forums, link exchange service, affiliate program, name redirection service, and RSS feed are all included.
Take the 30 minute SiteBuildIt Video Tour.
Learn how Internet marketing works. Find out about the importance of keywords and content. See how Search Engines and surfers find Web sites and how you can turn this "traffic" into profit using SiteBuildIt.

Disclaimer: LittleShamrocks.com is an affiliate website that receives commissions from sales of the products listed. We have purchased and sampled many, but not all, of the products on these pages.

© Copyright LittleShamrocks.com. All Rights Reserved.