Irish Jewelry
Irish Shillelaghs
Irish Handkerchiefs
Sometimes Pipe Dreams Can Come True

One afternoon near the end of February, Terry and I were discussing how much fun it would be to go to Ireland again for St. Patrick's Day. It was a pipe dream and we didn't really think that it would ever happen. Just to quell my curiosity, I got into Aerlingus.com and checked out the fares and availability. There were still a lot of open seats and the fares weren't too high. When I told Terry about my findings, we discussed our finances and the possibility of really making the trip.
John Reynolds had told us that he would put us up in his guest house on our next trip. When we phoned him, he was happy to oblige, so we made our reservations with Aer Lingus. We booked a flight out of Boston on March 12th, with a return flight on March 21st. We wanted this to be a surprise, so we asked John not to tell anyone we were coming, and he agreed.
When we arrived in Dublin, we got our rental car and drove on the N4 towards Mohill. When we got to Coralstown, Co. West Meath, it was about 10:00 AM, so we stopped at a little pub and restaurant to get some coffee. It was called Mary Lynch's Pub. A woman drove up at the same time, who turned out to be the waitress, Kathleen Duffy. They didn't open until 11:00 but she said that we could come in and she would make us some coffee and scones. I was driving and especially appreciative since I was beginning to feel the jet lag and needed a pick-me-up. She told us that the establishment was owned by Mary and John Moriarty, who had purchased it from Mary Lynch, and decided to leave the name the same. They had some beautiful antique crockery, which were old whiskey kegs, so I couldn't resist taking photos of them. Kathleen gave me a bouquet of Irish daffodils. We thanked Kathleen and got back on the highway.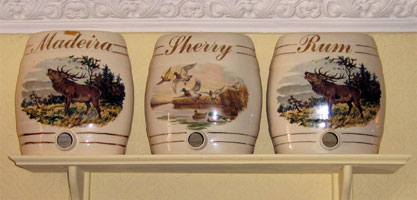 We were to meet John at Planxty McGuire's at 5:00 PM and he would show us the way to the guest house. We were a bit early, so we went in the back door at O'Brien's Tavern and surprised Jim and Phil. They really were very happy to see us and the feelings were mutual. Terry ordered a Guinness and I got a cup of tea and some of Phil's delicious brown bread. We had a great time visiting with them until it was time to meet John. We told the O'Brien's we would be back later and we left for Planxty's.
Click here for the next story
Cloonboney Cottage
.

Disclaimer: LittleShamrocks.com is an affiliate website that receives commissions from sales of the products listed. We have purchased and sampled many, but not all, of the products on these pages.

© Copyright LittleShamrocks.com. All Rights Reserved.