One day we went to Carrick-On-Shannon to go shopping and take photos of some of the new businesses. We were shopping for souvenirs, my son's birthday and Christmas gifts. They have a new discount store on the outskirts of town called Tesco. It was mostly grocery items; however, they did have small departments for clothing, gift items, florist, etc. It was quite a large store and very unlike the tiny shops in town. We spent a long time in Tesco and got some great buys. I had fun looking at all the different foods.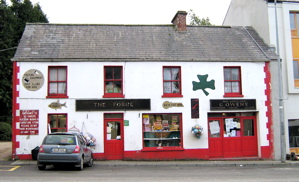 I have mentioned in the past the two small discount stores in Carrick. They are called Quidsworth and Pounds Cheaper. These two stores had everything except food. We bought several games and toys for the kids, which were nothing like any I had seen in the States. I bought several boxes of Christmas cards, which were also very different and much less expensive than ours. I even bought a new Christmas ornament since I buy a new one every year and hadn't yet bought one for this year.
We went into a souvenir shop and bought several T-shirts, trying to choose all different ones for our family and friends back home. There were so many to choose from and most were beautiful and colorful.
As we walked around Carrick, we took photos in between our stops at the different shops. There were all kinds of new restaurants on the second floor of the shops at street level, including several Thai and Chinese. There was one called The Sandwich Bar, kind of on the same idea as Subway, made fresh as ordered. We were introduced to a new dining phrase which we had never heard of. It is called 'carvery service'. It is similar to a buffet but you tell them what you want and they will serve it up for you.
Next we went to High Street in Ballinamore and shopped some more. They had a new discount store called EuroValue. It was very small but it was fun to look. We went into an upscale souvenir shop, called An Siopa Bronntanas, which had items like Waterford Crystal, Beleek Porcelain and Celtic Jewelry. The only item I purchased in there was an Irish flag refrigerator magnet. I tried to find the translation of An Siopa Bronntanas but I had no luck. I do think that Siopa means Shop.
We went further up High Street and stopped in to see Gabriel Owens at his shop called The Forge. He is the man whose wife used to live in Dover, New Hampshire. She didn't happen to be there that day; however, we took a photo of Gabriel and his shop. We also took photos of the Catholic Church, the Chinese restaurant, the Commercial and Tourist Hotel, the Co. Leitrim Genealogical Library and several photos of the colorful buildings in town.
The next day we both wanted to go to Sligo Towne, Co. Sligo but it was not a very nice ride. We decided to go although it was raining and foggy. We didn't bother to try to find the Port of Sligo building due to the fog and the massive construction and detours. We stopped on the main street and went into several of the shops there. I found another little discount store called The Right Price and bought some books. One shop in particular was a huge old building that was painted in pale yellow and navy blue. It was called The Sligo Warehouse, Henry Lyons & Co., LTD. It was a beautiful store with three floors and an elevator. This was unusual to us because we were so used to the tiny shops and Tesco was a modern building.
After buying some items from the shops in Sligo Towne, we headed back to Mohill. By this time it had stopped raining but was still foggy. We stopped at Clarke's in Mohill before going back to our room and had supper. We had ham and turkey with stuffing, mashed potatoes with gravy, carrots and cabbage, which was their 'carvery service' of the day.
Click here for the next story
The Willett
.

Disclaimer: LittleShamrocks.com is an affiliate website that receives commissions from sales of the products listed. We have purchased and sampled many, but not all, of the products on these pages.

© Copyright LittleShamrocks.com. All Rights Reserved.