Chocolate Pots with Crunchy Irish Oatmeal Cookies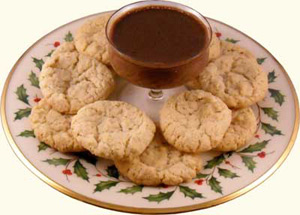 This extraordinarily rich, smooth chocolate dessert is complemented by crunchy Irish oatmeal cookies.
Chocolate Pots:
5 oz Semi-Sweet Chocolate
1 Cup Heavy Cream
1 Large Egg
1 Tablespoon Vanilla
Break up the chocolate and place in food processor. Heat cream to almost boiling. Add to the chocolate. Blend until chocolate has melted and the mixture is smooth. Add the egg and vanilla and blend again until smooth. Pour into individual dishes and chill for at least 24 hours. Serve with crunchy oatmeal cookies.
Crunchy Irish Oatmeal Cookies:
8 oz Kerrygold Irish Butter
1 1/2 Cups Fine Granulated Sugar
1 Egg
1 Teaspoon Vanilla Extract
1 3/4 Cups All-Purpose Flour
1 Teaspoon Baking Soda
1 Teaspoon Baking Powder
1 1/4 Cups McCann's Quick Cooking Irish Oatmeal
Preheat oven to 350F.
Using electric mixer, cream the butter and sugar. Add the egg and vanilla and beat until fluffy. Stir in the flour, baking soda, baking powder and oatmeal. Line a baking sheet with non-stick paper. Drop teaspoons full onto the sheet, leaving space between. Bake for 12 minutes until golden, but not brown. Remove from baking sheet and cool. Yield: 4 dozen
Dip each cookie into the chocolate pot for a delicious combination of flavors.

Disclaimer: LittleShamrocks.com is an affiliate website that receives commissions from sales of the products listed. We have purchased and sampled many, but not all, of the products on these pages.

© Copyright LittleShamrocks.com. All Rights Reserved.