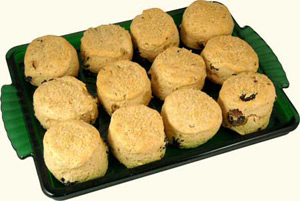 1 1/2 Cups Wholemeal Self-Rising Flour **
1/2 Cup White Self-Rising Flour
Pinch of Salt
1 Tbalespoon Sugar
1/2 Teaspoon Baking Soda
1 Teaspoon Carroway Seeds
1/4 Cup Currants
1 Egg
2 oz Melted Margarine
2/3 Cup Buttermilk
Preheat oven to 350F.
Mix flours, salt, sugar and baking soda. Stir in seeds and currants.
Beat egg, margarine and buttermilk. Mix dry mix into wet mix until just combined. Turn out onto floured board and knead about 10 times until surface is smooth. Flatten to 1 inch thick. Cut scones with a 2 inch biscuit cutter and place on ungreased cookie sheet. Brush tops with a little milk and sprinkle sugar on top. Bake for 20-25 minutes, until they sound hollow when tapped on the bottom. Yield: 12 Scones
** There is no substitute for self-rising flour but you can easily make your own out of all-purpose flour. To make 1 cup of self-rising flour: to a 1 cup measure, add 1-1/2 teaspoons baking powder and 1/2 teaspoon salt. Add enough all-purpose flour to make 1 level cup.

Disclaimer: LittleShamrocks.com is an affiliate website that receives commissions from sales of the products listed. We have purchased and sampled many, but not all, of the products on these pages.

© Copyright LittleShamrocks.com. All Rights Reserved.