Quick Cherry & Cream Cheese Dessert Cake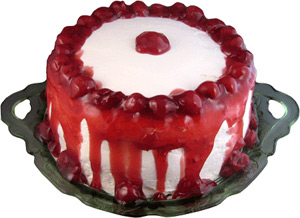 This yummy cake is something that I concocted almost 40 years ago. It's a very quick and easy last minute dessert for a dinner party. It presents itself as a striking delicacy that took hours to make but it's our secret.
Shhhhh!
1 White Cake Mix
1 16 oz Tub Cool Whip
2 8 oz Packages Cream Cheese, softened
1 Can Cherry Pie Filling
Prepare the cake as directed on the package for two 8 inch or 9 inch layers. While the cake is cooling, prepare the frosting. With an electric mixer, beat the cream cheese until smooth. Add the entire tub of Cool Whip and beat thoroughly until well blended, leaving no lumps of cream cheese.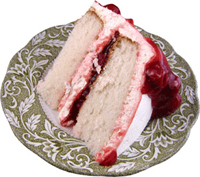 Using about 1/3 of the cream cheese mixture, spread the top of the bottom layer out to the edges. Spread about half the cherry pie filling on top of the cream cheese to about 1 inch from the edge. Place the top layer on top. Frost the sides of the cake carefully, not to disturb the cherry pie filling. Finish up by frosting the top.
Spoon on the remaining pie filling around the edge of the top. While trying to keep some of the cherries along the top edge, let the filling drizzle down the sides. Refrigerate until served, then keep refrigerated. You may use another flavor of pie filling if desired.

Disclaimer: LittleShamrocks.com is an affiliate website that receives commissions from sales of the products listed. We have purchased and sampled many, but not all, of the products on these pages.

© Copyright LittleShamrocks.com. All Rights Reserved.