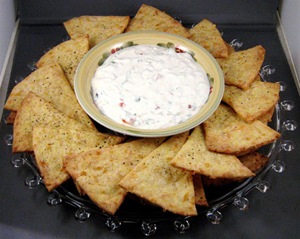 1 3/4 Cups Flour
1/2 Cup Yellow Cornmeal
1 Teaspoon Sugar
3/4 Teaspoon Salt
1/2 Teaspoon Baking Soda
1 Stick Butter, cut into small pieces
6 oz Shredded Sharp Cheddar Cheese
1/2 Cup Cold Water
2 Tablespoons White Vinegar
Coarsely Ground Black Pepper
Preheat oven to 375F.

I always use my
food processor
when preparing recipes that require fine chopping or shredding. It is so much easier and less time consuming.
In a food processor, mix flour, cornmeal, sugar, salt and baking soda. Add the butter and process until mixture forms coarse crumbs. Transfer to a large bowl and stir in cheese, water and vinegar until mixture forms a soft dough. Form it into a ball, wrap it in cellophane and chill in the refrigerator for 1 hour.

Divide dough into 4 sections. On a floured board, roll each section into a paper thin circle, trimming the edges. Sprinkle with pepper and press it firmly into the dough. Cut each circle into 8 wedges, place on a greased baking sheet and bake for about 10 to 12 minutes, until crisp. Do not over cook. Cool on wire rack. Store in an airtight container. Serve with your favorite dip. Yield: 32
Note: For a dip I have used Erin Farmhouse Vegetable Soup Mix, which I combined with 16 oz of sour cream and chilled for 2 hours before serving.


Disclaimer: LittleShamrocks.com is an affiliate website that receives commissions from sales of the products listed. We have purchased and sampled many, but not all, of the products on these pages.

© Copyright LittleShamrocks.com. All Rights Reserved.