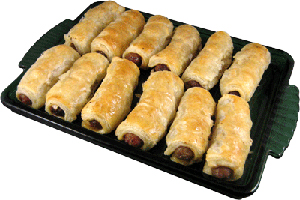 Irish sausage kebabs are a type of sandwich, similar to an American hot dog, that are served in most fast food restaurants in Ireland. They consist of an Irish sausage, topped with tomatoes and onions, that have been marinated in vinaigrette, then wrapped in puff pastry and baked until browned and heated through. Kebabs are not to be confused with Middle Eastern Kabobs, or Shish Kabobs, which are totally different. 2 1 lb Packages Donnelly Irish Sausages
2 Tomatoes, diced to 1/4 inch
1 Medium Onion, diced to 1/4 inch
1 1/2 Cups Vinigrette, Marinade or Salad Dressing
1/4 Teaspoon Ground Curry Powder
1/4 Teaspoon Ground Ginger
1 Package Ready-Made Puff Pastry, thawed (2 sheets)
1 Beaten Egg Start one day ahead. Marinate the onion and tomatoes in the refrigerator overnight. The next day, fry the sausages until thoroughly cooked; drain and set aside. Spread the pastry and roll lightly on a floured surface. Cut into 4-inch squares. Place one teaspoonful marinated vegetables in the center, then place one sausage on top. Wrap and seal the seam with a little water, placing them on an ungreased baking sheet, seam side down. Brush with beaten egg and bake 12 to 15 minutes until pastry is risen, cooked through and golden brown. Serve warm as an appetizer.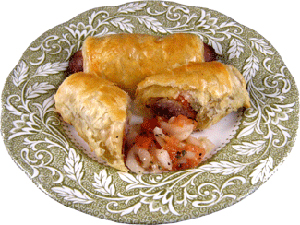 Disclaimer: LittleShamrocks.com is an affiliate website that receives commissions from sales of the products listed. We have purchased and sampled many, but not all, of the products on these pages.

© Copyright LittleShamrocks.com. All Rights Reserved.