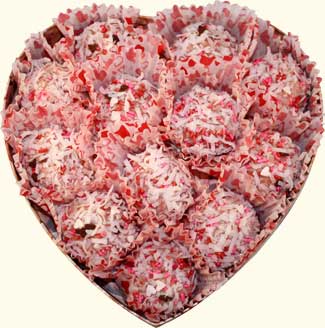 I had never heard of Irish Fifteen's until someone asked for the recipe. Fifteen's are no-bake refrigerator biscuits that are made by slicing them from a log roll. I have put my own twist on this recipe and have made them into bonbons.
15 Digestive Biscuits, crushed
15 Walnuts, finely chopped
15 Maraschino Cherries, chopped
15 Colored Marshmallows, chopped
1/2 Can Sweetened Condensed Milk (a bit more, if necessary)
3/4 Cup Flaked Coconut
Mix the first four ingredients. Add enough condensed milk to bring all the ingredients into a ball. Divide the ball into two and make two log rolls. Scatter 1/4 cup of the flaked coconut on the work top. Roll one log over it to coat well. Scatter another 1/4 cup coconut and roll the other log as well. Wrap each log tightly with plastic wrap (they will look like sausages) and place logs on a tray. Refrigerate until firm - about 2 hours.
Cut each log into 7 or 8 pieces and roll into balls. Roll each ball in the remaining 1/2 cup of flaked coconut. Return to refrigerator and keep refrigerated. This recipe can be made in large quantities and they will last for weeks.

Disclaimer: LittleShamrocks.com is an affiliate website that receives commissions from sales of the products listed. We have purchased and sampled many, but not all, of the products on these pages.

© Copyright LittleShamrocks.com. All Rights Reserved.