Irish Fisherman's Chowder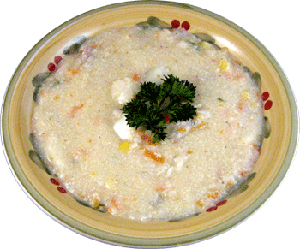 2 Large Potatoes, peeled and cubed
1 Tablespoon Butter
1 Large Onion, diced
4 Rashers of
Donnelly's Irish Bacon
1 Small Can Sweet Corn, drained
2 Carrots, shredded
2 Parsnips, shredded
1 lb Haddock or Other White Fish, chopped into 3/4 inch cubes
2 Cups Milk
Handful Chopped Fresh Parsley
Salt and Pepper to taste
Boil the potatoes until soft; drain. Set aside half the potatoes and mash the other half. In a saucepan, melt the butter and gently fry the onion and bacon. Add the sweet corn, vegetables and all of the potatoes, fish and milk. Stir gently and simmer for four to five minutes. Do not overcook. Season and garnish with fresh parsley. Yield: 4 servings.

Disclaimer: LittleShamrocks.com is an affiliate website that receives commissions from sales of the products listed. We have purchased and sampled many, but not all, of the products on these pages.

© Copyright LittleShamrocks.com. All Rights Reserved.