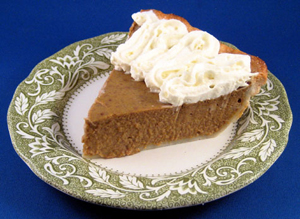 1 1/2 Cups Canned Pumpkin
3/4 Cup Sugar
1/2 Teaspoon Salt
1 1/4 Teaspoons Ground Cinnamon
1 Teaspoon Ground Ginger
1/2 Teaspoon Ground Nutmeg
1/2 Teaspoon Ground Cloves
3 Slightly Beaten Eggs
1 1/4 Cups Milk
2/3 Cup Evaporated Milk
1 Unbaked Pastry Shell 9 inch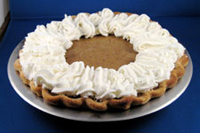 Preheat oven to 400F.
Combine pumpkin, sugar, salt and spices. Blend in eggs, milk and evaporated milk. Pour into pastry shell (have edges crimped high because the amount of filling is generous).
Bake in hot oven (400) for 50 minutes, or till knife inserted halfway between center and edge comes out clean. Cool. Serve with whipped cream.

Disclaimer: LittleShamrocks.com is an affiliate website that receives commissions from sales of the products listed. We have purchased and sampled many, but not all, of the products on these pages.

© Copyright LittleShamrocks.com. All Rights Reserved.