Semi-homemade Pasta Sauce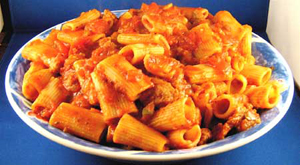 2 Tablespoons Extra Virgin Olive Oil
1 lb Lean Ground Beef or Sweet Italian Sausage
1 Medium Onion, chopped
1 Medium Green Pepper, chopped
1 Clove Garlic, minced
1 Large Jar Plain Spaghetti Sauce
1 16 oz Can Diced Tomatoes
1 Small Can Tomato Paste
4 Teaspoons Dried Oregano
1/4 Cup Packed Brown Sugar
Salt & Pepper to Taste
On medium heat, brown the meat in an extra large skillet or sauce pan with the olive oil; drain. Add onion, green pepper and garlic; cook until soft.
Stir in spaghetti sauce, diced tomatoes, tomato paste, oregano, brown sugar and salt & pepper until well blended.
Reduce heat to low and simmer for 30 minutes. Serve with your favorite pasta.

Disclaimer: LittleShamrocks.com is an affiliate website that receives commissions from sales of the products listed. We have purchased and sampled many, but not all, of the products on these pages.

© Copyright LittleShamrocks.com. All Rights Reserved.