by Lou Bradbard
Webmaster for LittleShamrocks.com
How to build a successful online business.
Fact: Small business is broken on the web.
Do you know any small business that is happy with their web site? Before I discovered SiteSell I tried to find a successful small business web site to use as a model for starting my own web site.
I talked with a lot of small business people and heard a long list of problems from a lot of very unhappy folks whose web site efforts had all gone wrong somehow.
"I can put up a billboard and get calls the next day.
I put up a web site and nothing happens."
--Jerry Silverio, Silco Plumbing Co.
There were problems at every step "unresponsive & overpriced webmasters, hosting providers" relentless up-selling of more and more web site features and services, and no useful information available to the owner to help correct what was wrong with the site.
If they could eventually get their web site built, they ended up with no traffic & no sales, but a stack of bills & an e-mail inbox overflowing with spam. Even the smartest folks who ran very successful businesses were frustrated. Some had spent thousands of dollars with no visible return.
The possibility of starting my own web site business was looking pretty dim.
Then I found a better way.
In my former career as a software tester for IBM, I learned to identify missing pieces of a puzzle. When I stumbled on SiteSell I was skeptical of their guaranteed claims but I kept reading and eventually realized that this was what was missing from the small business web site puzzle a complete system for researching, planning, building, and monetizing a web site for any type of small business.
They have thousands of successful sites to use as examples, an arsenal of essential tools, and a library of information including specialty articles for the most common types of businesses, and they even show how to write for the web!
The SiteSell web hosting service includes everything you will need to run an online business for a single fixed price - less than a dollar a day! SiteSell's web site builder tool called Site Build It is very easy to use and will handle all of the technical stuff for you.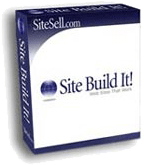 I have worked in the computer industry for 20 years, have a computer science degree, and I even worked for a year at BB&N, the company that invented the internet. You would think I would know how to build a web site, wouldn't you?
I learned that nearly everything I studied in my computer career was completely useless for building an effective small business web site. I know the technology inside and out but that didn't help me at all. I needed to learn how to make the right decisions.
SiteSell is perfect for non-technical people and for those with computer skills. If you can use e-mail you can use SiteSell to build your passion into an online business.
The web site design business is currently like the home construction industry was 100 years ago, before the building code was created. There is just no set of rules to specify the right way to build a web site. SiteSell has created those rules and built them into a fail-proof system.
Click here to compare SiteSell to other web hosting companies
Just how effective is SiteSell?
LittleShamrocks.com is in the top 1% of all web sites for visitor traffic. Here is the current traffic rank provided by Alexa.com traffic ranking service:

Here are the page ranks for our top pages on LittleShamrocks.com. Page ranks are the position in the results list from a web search engine. A page rank of 1 means that site shows up in the very first position.
LittleShamrocks.com has a bunch of #1 page ranks, and many of our pages are in the top 10! These pages bring hundreds of visitors a day to this site. You can go to Google and try these for yourself!
Google Page Ranks for LittleShamrocks.com
#1 Page Rank
Irish Appetizer Recipes
Irish Appetizers
Irish Bread and Scones
Irish Casseroles
Irish Drink Recipes
Irish Pie Recipes
Irish Relishes

Top 5
Irish Beverages
Irish Coffee and Tea
Irish Dessert Recipes
Irish Side Dish Recipes
Irish Entree Recipes
Top 10
Irish Mustards
Irish Soup
Irish Chocolate and Candy
Irish Cookie Recipes
Irish Cookies
Irish Food Newsletter

You can do it too!
All you need is an idea! If you don't have an idea, find someone who does. That is how I partnered with Tyna to create this Irish food web site. She creates the content and I build the web site and follow the SiteSell method.

Click here to Find YOUR Small Business Or Idea .
After I began this site, I used SiteSell's research tools to find other great web site ideas. Now I have several web sites of my own and also create web sites for others.
Click here web site design portfolio.
Just give it a try!
You can turn your passion into a profitable business...
from home...part-time...with no HTML skills at all!

SiteSell is completely risk free. You will get a FULL refund if it's not for you.

Have a look at the Video Tour to get an idea of how it works (or the Quick Tour if you're on dial up).

Tyna's Story
Click here to read Tyna's story of how we got started with LittleShamrocks.com and built it into a successful online business.

Have a question?
Use the form below to ask us anything about SiteSell or LittleShamrocks.com. We promise to keep your e-mail confidential and we will get right back to you.


Disclaimer: LittleShamrocks.com is an affiliate website that receives commissions from sales of the products listed. We have purchased and sampled many, but not all, of the products on these pages.

© Copyright LittleShamrocks.com. All Rights Reserved.