Happy Mother's Day from LittleShamrocks.com!
Well, all of the snow is gone and we're gearing up for Mother's Day. Here in the USA it is held on Sunday, May 8th. A few years ago I made a delicious Irish Lemon Carrot cake and decorated it for Mother's Day. Perhaps you would like to try this recipe.
Irish Lemon Carrot Cake for
Mother's Day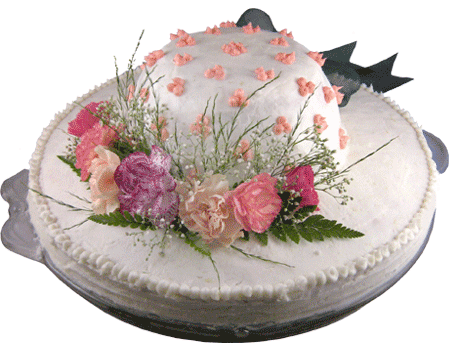 There hasn't been much going on during April. I am still recovering from surgery on my right shoulder but it's getting much better. I hope all of you had a very Happy Easter with your families and friends. We all cleaned up our homes and yards before Easter and now it's time to bring out the outdoor furniture and our grills. I have several grilling recipes that you might want to try.
| | | |
| --- | --- | --- |
| | | |
| Spareribs with Mango Chutney Whiskey Marinade | | Sirloin Strips with Family Secret Steak Marinade |
| | | |
| | | |
| Grilled Irish Sausages (Bangers) | | Chicken Wings with Guinness |
| | | |
| | | |
| Grilled Potato Halves | | Irish Egg & Potato Salad |
Do you remember these two photos that I had posted on LittleShamrocks.com several months ago? They were supposed to be my great grandmother, Anna Casey Willett, and her husband, Edward Willett, Jr. Unfortunately, our distant cousin was mis-informed; they were ancestors from another branch of his family and no relation to us or the Casey's. He let us know as soon as he learned of the error. Sorry about that.
| | |
| --- | --- |
| | |
| Edward Willett, Jr. | Anna Casey Willett |
I hope that all of you have visited our new Gift Shop. There is a large variety of gift items from souvenirs and tee shirts to jewelry and shillelaghs, to Waterford crystal and Irish knit sweaters. I'm sure you could find something that would be a lovely gift for mother or a first communion gift. Don't forget that graduation will be coming up soon as well.
On behalf of all of us at LittleShamrocks.com, I would like to wish all of you mothers out there a very Happy Mother's Day.
Sláinte,
Tyna

Disclaimer: LittleShamrocks.com is an affiliate website that receives commissions from sales of the products listed. We have purchased and sampled many, but not all, of the products on these pages.

© Copyright LittleShamrocks.com. All Rights Reserved.