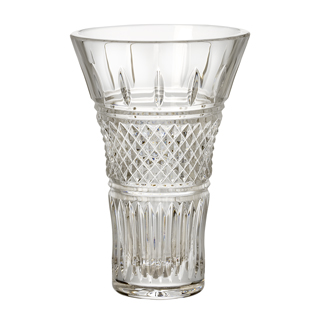 Waterford Irish Lace 6" Vase
Even though there is evidence that glass started being made in 13th century Ireland, it was reborn as an art form, and the story of Irish Waterford Crystal began in the late 1700's. George and William Penrose, two established Irish businessmen, set about opening the their glass house in the port of Waterford in 1783. The brothers wanted to specialize in making extraordinary crystal, so they opened the Waterford Glass House with 10,000 pounds of seed money and about 50 to 70 employees, led by renowned English glassmaker, John Hill. After a relatively brief period, this talented group was able to produce the highest quality crystal that was unequaled in Ireland or England. The unparalleled quality of their crystal created a worldwide market and they carefully packed up their precious crystal treasures for the markets in New York, New England, Nova Scotia and the West Indies.
Prior to his departure, John Hill shared the technical information about the formula with company clerk Jonathan Gatchell. Gatchell became manager of the factory and, in 1799, when William Penrose decided to sell, he seized the opportunity, along with the Ramsey and Barcroft families. Before dying in 1823, Gatchell had made Waterford Glass a partnership with his brothers, James and Samuel, and his son-in-law, Joseph Walpole. Jonathan's son, George, was to come into the business in 1835, the year of his 21st birthday. Sadly, in 1851, overcome by the burden of no money and high taxes, the Waterford Glass House was closed. Although they had operated for 68 years, the quality and beauty of its creations were not enough to sustain it.
The dream of the Penrose brothers was not forgotten. Nearly 100 years later, in 1947, while Europe was still in ruins after World War II, a small factory was set up in Ballytruckle, a suburb of Waterford and not far from the very humble beginnings of the Penrose glass house. The new owners were dedicated to recreating the extraordinary crystal started by the Penrose brothers. Presently, the Waterford Glass House employs approximately 9,000 people worldwide and there are three manufacturing plants in County Waterford. More than two centuries have passed since George and William Penrose opened their small factory in Waterford and it surely has grown beyond their wildest dreams. However, neither the passage of time, nor the growth of the company has changed what consumers feel is the highest quality crystal in the world. George and William Penrose would be proud.

Disclaimer: LittleShamrocks.com is an affiliate website that receives commissions from sales of the products listed. We have purchased and sampled many, but not all, of the products on these pages.

© Copyright LittleShamrocks.com. All Rights Reserved.