Leitrim Connection Feb 08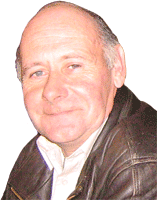 Mohill Girl Takes TV By Storm

Mohill girl, Katherine Lynch has received mixed reaction locally to her recent three-part mockumentary 'Katherine Lunch's Working Girls', which was screened on R.T.E. television during the month of January. She also recently appeared on the Friday night chat show 'The Late Late Show' hosted by Pat Kenny. Katherine's show could be described as being bawdy and containing 'adult humor'.

Working Girl Gets The Green Light
Mohill comedienne, Katherine Lynch, has certainly pressed all the right buttons at R.T.E following her mini-series 'Working Girls'. She has been commissioned to six more episodes on R.T.E. 2. Her show has proved to be the most successful of the station's new comedy shows. The first episode beat out 'The Roaring Twenties' by 131,000 viewers and bagged 296,000 viewers for the last episode.

Drumkeeran Singer Releases Second Solo Album
One of Leitrim's finest musical ambassadors, Mary McParkland, from Drumkeeran, released her second solo album on Friday, February 1st, entitled 'Petticoat Loose'. The album features a few songs penned by fellow Drumkeeran native Vincent Woods. There are a few very old songs which originated in the Drumkeeran area.

Mohill School On Short List For Global Award
St. Manachan's of Mohill has been short listed for a global award for two projects. The County Leitrim school is one of just ten finalists for the award. The children involved are Chelsea Fanning, David Patrick McDonagh, James McHugh and Muirean O'Kelly on the first project; Conor Kiernan, Jessica Dobson, Kyle McGee and Carrie Walsh on the second.

Places To Visit In Lovely Leitrim
The Hollywell Country House, in Carrick, and The Courthouse, in Kinlough, are named in John and Sally McKenna's publication 'Bridgestone' as two of the top 100 places to stay in Ireland. In the same publication, The Oarsman, in Carrick, is listed among the top 100 restaurants in the country, as well as being in the top 10 for service. There is indeed a strong family connection as members of the Maher family run both the Oarsman and the Hollywell.

Action Ability Centre Opens In Mohill
The end of January saw the opening of the country's first Action Ability Centre on Station Road in Mohill, formerly Leagoes House. The building has been purposely rebuilt and designed for disabled and wheelchair bound people. The Leitrim Association for the Disabled was founded in 1996 by a Mohill based nun, Sister Emanuel Farrelly. Prior to the recent opening of their new offices on Station Road, they had used the credit union building in Mohill as their base for the past ten years or so. Chairman of the association, Mohill's Tommy Murphy, has been confined to a wheelchair since a work related accident thirty-seven years ago. Public Relations Officer of the branch is Cloone's Andy McGovern, Sr.

Mohill Film Maker
Alan Early from Mohill town is currently in the process of making a short film as part of his graduation project in film production at Dun Laoghaire Institute of Art, Design and Technology. The film is titled 'Doyle' and is set in Leitrim. The film will be about a lonely man from Dublin with a dark secret, who is visiting Shannon for a weekend. Alan is on the lookout for locals to act as extras, as well as for a few more local actors. The shooting of 'Doyle' will take place over a three day period in mid March, around St. Patrick's Day, in the Mohill / Carrick-On-Shannon area.

Leitrim's Models
Four lucky young Leitrim people are in with a chance of winning a one year contract with a top modeling agency, after they beat off stiff opposition from 600 other aspiring models. The lucky foursome are Anton Arandelovic, Caroline Conway, Joanne Logan and Sarah Curneen.

Top Honor For Popular Carrick Man
Sean Murray has been selected by the local Chamber of Commerce to receive the 2007 VodaFone Passion for the World Around Us Award. A former chairman of the Leitrim G.A.A. County Board, Sean has been involved in several organizations and committees over the years.

Major Business Plan For Mohill
An action plan to help boost the economic and social infrastructure of Mohill is currently being negotiated, which hopes to see the town become an attractive hub in the region. The Mohill Social and Economic Forum, which was set up just over a year ago, has an ambitious plan to renovate the social and economic landscape of the town over the next few years. Secretary of the committee is local counselor Thomas Mulligan. At the moment, the committee is busy preparing for a big St. Patrick's Day parade in the town.

Carrick Cineplex The Best In Ireland

In the recent RA'AM Industry Awards, Carrick Cineplex has been named the best independent cinema in Ireland. This is equivalent to the Oscar or Bafta of the cinema industry.

Rinn - Shannon District A.G.N.

The Rinn - Shannon District A.G.N. was held in Fitzpatrick's of Mohill at the end of January. A contingent of anglers attended on the night. The following officers were elected for the 2008 season. President - Bill Oliver, Chairman - Paul Beck, Vice Chairman - Jarlaith Gallagher, Secretary - Val Fitzpatrick, Jr., Joint Treasurers - John Bradshaw, Mick Oliver, Assistant Secretary - Ernest Catherines, P.R.O. - Jarlaith Gallagher, Match Organizer - Gary Hynes, Safety Officers - Sean Beck, Frank Tiernan.

Sports

G.A.A. National Football League

Leitrim's opening round N.F.L. Division clash with Fermanagh fell by the wayside as the match referee declared Sean McDiaurnda's pitch unplayable just five minutes before the end of the game.

Supporters Club

This years Leitrim G.A.A. Supporters Dublin Branch launch took place in the Herbert Hotel in Dublin on January 24th. Present on the night amongst a good gathering were former Leitrim greats Packy McGarty and Cathal Flynn.

Girls Connacht Post Primary Schools Semifinal

Ballinamore 4 - 7
St. Bridget's Tuam 1 - 2

Ballinamore Post Primary School Girls Team qualified for the Connacht 'B' final courtesy of a very convincing semi-final victory over St. Bridget's of Tuam, Co. Galway. Last year Ballinamore reached the All-Ireland final in the 'C' grade and with a number of that panel still available to play. They are going great guns at a higher level this season.

Community Games

Carrick-On-Shannon will host the 2008 Connacht Community Games finals.

Managers
There have been a number of managerial changes on the Leitrim Club for the 2008 season. Gerry McLoughlin will train 2006 double winners, Mohill, with Kenneth Smith, Niall Faughnan, Gerry Kilraine and Simon McGuinness as his selectors. Gerry, who has managed Mohill in the past takes over from Tommy McCormack who guided the club to league and championship double in 2006. Tommy will look after Co. Longford side Fr. Manning Gaels this year, while one of his selectors in 2006, Sean Kennedy, has recently taken up a post with St. Michael's in Co. Roscommon. Noel Crossan who managed defeated finalists, Kilturbrid, in 2007, replaces Paddy Maguire as Bornacoola senior manager. John Russell takes over the reigns from Barney Breen at Annaduff. At inter-county level, Gortletteragh club man and former Leitrim senior star, Derek Kellegher, has taken up the position of Leitrim Minor manager.

Top Post For Bornacoola Goalkeeper

Bornacoola's Fergal McGill has been recently appointed as Senior Executive to the Director General Office of the G.A.A. Fergal had previously held the position of Information Officer for six years. Locally, Fergal is regular goal keeper with the Bornacoola Senior Team and is also his club's P.R.O. If that's not enough, the genial Dromod man is also very popular on the local music scene.

Soccer - Mighty Manor March On In Cup

At Bee Park in Manorhamilton, Leitrim side Manor Rangers booked their place in the quarter final of the F.A.I. Junior Cup for the first time in their history. This was courtesy of a thrilling 3 - 2 victory over one of the country's best known junior sides, Douglas Hall from Cork. An exhilarating game of football was deadlocked at 2 - 2 when, in the last minute of extra time, up stepped the home side, Gary Hickey, to score a wonderful match-winning goal from long range that sent the good-sized local support to raptures of joy. To get as far as the last eight in the competition is a marvelous achievement for the Manorhamilton based club, considering that no fewer than 745 teams started off in the beginning.

More Joy For Manor
There was yet more joy for the Manor Rangers when they scored a most convincing 3 - 0 victory over Oran Bay 90 from Co. Galway in the Connacht Junior Cup competition in Bee Park.

Ireland Star Of The Future
Suppose a number of proud dads say that their sons will play for Ireland one day ... well, Manorhamilton dad, Darren Hurd, has gone further and actually put his money where his mouth is. He placed a 100 Euro bet at 100 - 1 that his talented 12 year old son, Conor, will someday play international soccer. Conor plays with his local Manor Rangers underage side at center-half. He recently proved his versatility by playing right midfield for representative side Sligo-Leitrim in their 1 - 0 victory over the Donegal league in the Jim Cashin Under 12 Competition. Darren was Leitrim's sole representative on the side.

G.A.A. - New Manager For Leitrim Ladies
Frank Gallagher, who has previously managed Sligo, has recently been appointed as manager of the Leitrim Ladies team. Frank's first game in charge did not go very well, as his charges were well and truly brought back down to earth with a bang, after the euphoria of last year's All-Ireland, when they suffered a clambering to Co. Westmeath in the league. However, I must point out that a number of last year's successful sides are no longer part of the panel.
Minor Manager
Gortletteragh and former county star, Derek Kellegher, will manage the Leitrim Minor team this year. Training has already commenced and I believe the response so far has been very good.
Hastings Cup Shield
Leitrim under-21 footballers compensated for a fruitless Hastings Cup campaign when they captured the shield courtesy of an exciting extra team victory over Westmeath in Longford. The team was captained by Gary Reynolds of Carrigallen.
Minor Coalition
For the first time in a number of years, neighbors and fellow parishioners, Mohill and Eslin, have joined forces at Minor level under the banner of St. Manachan's. This is, in effect, a new club that will be jointly funded by both Mohill and Eslin G.A.A. Clubs. Chairman is Enda Stenson of Eslin, Secretary is Gerry Beirne of Mohill; Team Manager-Trainers are Stephen Flynn, Jr. of Mohill and Barry Bohan of Eslin. The team enjoyed a very successful maiden voyage when they scored a resounding 5 - 21 to 0 - 2 victory over fellow amalgamation Sheemoore Gaels (Kilturbrid-Leitrim Gaels) in the first round of the new 15-a-side league. The line out was as follows: Emmet Higgins, E; Jonathan Beirne, M; Gabriel Egan, E; Sean Gilden, E; John Mulligan, M; Kevin Kilraine, M; Matthew Bohan, E; Mark Beirne, E; Niall Flynn, M; Conor Beirne, M; Conor Beirne, E; Donhnaill Flynn, M; Shane Quinn, M; Niall O'Brien, M; Paul Reynolds, E. Subs used on the day were Jason Beirne, Alan Farry, Daniel Creamer, Lee Cassells, all of Mohill; joint captains of the coalition, who were elected by the players, are Kevin Kilraine and Mark Beirne. The second round fixture with St. Mary's was postponed due to fog.
Until next time ... Slainte!

Disclaimer: LittleShamrocks.com is an affiliate website that receives commissions from sales of the products listed. We have purchased and sampled many, but not all, of the products on these pages.

© Copyright LittleShamrocks.com. All Rights Reserved.