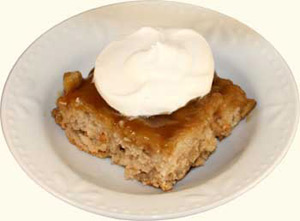 1 1/4 Cups Maple Syrup
1 Tablespoon Cornstarch
2 Cups Water
2 Tablespoons Butter or Margarine
2 Cups All-Purpose Flour
1/4 Cup Sugar
1 Tablespoon Baking Powder
1/3 Cup Butter or Margarine
3 Cups Chopped, peeled apples
3/4 Cup Milk
1 Teaspoon Vanilla Extract
1 Tablespoon Sugar
1/2 Teaspoon Cinnamon
2 Tablespoons Butter or Margarine
Whipped Cream
In a saucepan, mix the maple syrup, cornstarch and water. Bring to a boil. Cook and stir 2 minutes more.
Add the 2 tablespoons butter or margarine. Pour into a 13*9*2-inch baking dish.
In a medium bowl, combine the flour, 1/4 cup sugar and baking powder. Cut in the . 1/3 cup butter or margarine until crumbly. Stir in the apples. Stir in the milk and vanilla until the batter is moistened. Drop the batter by the tablespoon over the syrup mixture in the baking dish.
Combine the remaining 1 tablespoon sugar and cinnamon; sprinkle over the batter. Dot with the remaining 2 tablespoons butter or margarine.
Bake in a pre-heated 350F oven for 50 to 55 minutes. Serve warm, topped with whipped cream. Serves 8.

Disclaimer: LittleShamrocks.com is an affiliate website that receives commissions from sales of the products listed. We have purchased and sampled many, but not all, of the products on these pages.

© Copyright LittleShamrocks.com. All Rights Reserved.