Shopping in Blanchardstown

Another trip to Ireland? Yes! Where else would we go? This time it was my idea and Terry agreed that we should go. Not only do we love it in Ireland but there was something special that I wanted to do (next story).
Terry and I picked up our rental car at Hertz and got on the N3 towards Trim. We spent our first two days in Co. Meath, near Dublin, at the Lydon's self-catering accommodation called "The Stable". It is one of the three new flats (apartments) that they converted from their milking parlor located behind Kiltale House in Dunsany. The other two flats are called "The Dairy" and "The Loft". The Stable is a one bedroom flat with room to sleep three. It is beautifully decorated, as are the rest of the Lydon's Kiltale Holiday Homes.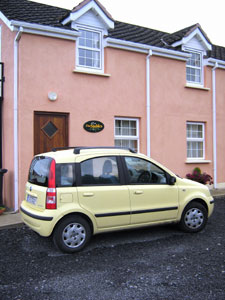 As usual, Mary had set out some scones and jam, along with the fixings for tea. Soon she arrived to greet us and we had a lovely visit with her. We asked her advice for the easiest way to reach the destination of our "special event" in Dublin. We didn't really want to drive in the city so we had the option of taking the bus or a tacsea (taxi). The bus would get us into Dublin, but we would be too late to take the bus back. The taxi would be quite expensive from our location, so Mary and Michael came up with a plan. We would drive into Blanchardstown and catch a taxi there.
I thought that Blanchardstown was just a town but I was surprised to see that it was a huge shopping center and the biggest one I have ever seen. There is a village nearby but it was totally separate from this place. Blanchardstown consisted of several malls and business centers. It was mind-boggling! There were four entrances named Red, Yellow, Green and Blue but I couldn't tell which one was which. I just went and parked the car and we waited for a taxi to come by. Terry flagged one down and asked the driver if we could leave our car there. He said that we could and we proceeded to take a ride into Dublin for 26 Euros. Not bad.
It was about 11:00 PM when we tried to catch another taxi back to Blanchardstown. When we arrived at the parking lot, it was locked! We couldn't raise anyone there, so we asked the taxi driver if he could bring us to Dunsany and he did. While we were driving along, Terry and I kept our eye on the meter. It kept going higher and higher...yikes! Well, it cost us 75 Euros, which, luckily, was about all the cash we had on us.
The next day, Mary dropped in to see how we managed our trip. When we told her, she asked her daughter to give us a ride to Blanchardstown to pick up our car. Maura was kind enough to oblige and we got our car. All's well that ends well...it was quite an ordeal, but it was worth it to see ....
IL DIVO IN DUBLIN!!
More information about the
Lydon's self-catering accommodations
. More information about
Blanchardstown Centre
.
Click here for the next story
Il Divo in Dublin
.

Disclaimer: LittleShamrocks.com is an affiliate website that receives commissions from sales of the products listed. We have purchased and sampled many, but not all, of the products on these pages.

© Copyright LittleShamrocks.com. All Rights Reserved.