Chunky Bacon and Cabbage Soup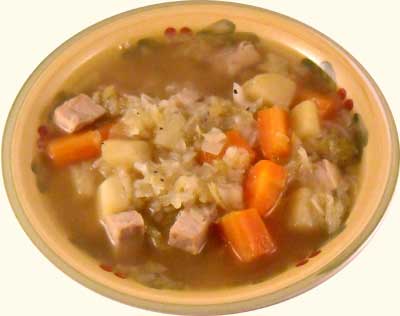 1 (1 lb.) Piece Irish
Boiling Bacon
3 Tablespoons Unsalted Butter
1 Medium Onion, finely chopped
3 Large Gold Potatoes, peeled and cut into 1/2 inch dice
3 Carrots, peeled and cut into 1/2 inch dice
5 1/2 Cups Chicken Stock or Low-Sodium Chicken Broth
4 Bay Leaves
3 Teaspoons Kosher Salt
1 Teaspoon Freshly Ground Black Pepper
1/2 Small Head Savoy Cabbage, cored, thinly sliced, and cut into 1/2 inch pieces
In medium saucepan, combine bacon and cold water to cover. Cover, bring to boil over moderate heat, and skim foam from surface. Reduce heat and simmer 7 minutes. Drain and cool, then cut into 1/2 inch chunks. Set aside.
In 6 quart heavy stock pot over moderate heat, melt butter. Add onion and sauté, stirring, until softened, about 3 minutes. Add potatoes and carrots and sauté 2 minutes. Add stock, bay leaves, salt, and pepper and bring to boil. Reduce heat to moderately low, cover, and simmer until potatoes are soft, about 10 minutes. Add cabbage and simmer 5 additional minutes. Discard bay leaves and stir in bacon. Re-warm if necessary. Ladle soup into bowls and serve.

Disclaimer: LittleShamrocks.com is an affiliate website that receives commissions from sales of the products listed. We have purchased and sampled many, but not all, of the products on these pages.

© Copyright LittleShamrocks.com. All Rights Reserved.