Tyna's Favorite Apple Pie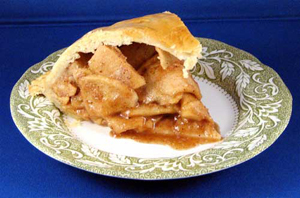 5 Large Green Apples, peeled, cored and sliced thinly
3 Tablespoons Cornstarch
1 Cup Sugar
1 Pinch Salt
1 Tablespoon Ground Cinnamon
1/4 Teaspoon Ground Nutmeg
1 Tablespoon Lemon Juice
Finely Grated Peel of 1 Lemon
1/2 Teaspoon Vanilla
1 1/2 Tablespoons Unsalted Butter
1 Large Egg, beaten
Preheat oven to 450F.
Follow directions for Tyna's Favorite Pie Crust. Place the prepared apples in a large bowl. Sprinkle with cornstarch, and add the sugar, salt, cinnamon, nutmeg, lemon juice, lemon peel and vanilla; toss well. Fill the bottom pie shell and dot with the butter.
Top with the other pie shell; seal and trim the edges. Cut several slashes in the top and brush with the beaten egg. Place on a foil lined baking sheet and bake 15 minutes.
Reduce heat to 350 and bake until the crust is golden brown, about 50 minutes longer. Serves 8

Disclaimer: LittleShamrocks.com is an affiliate website that receives commissions from sales of the products listed. We have purchased and sampled many, but not all, of the products on these pages.

© Copyright LittleShamrocks.com. All Rights Reserved.