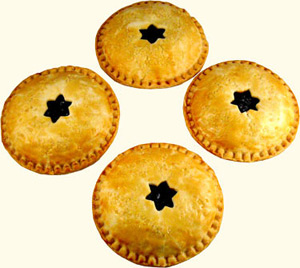 1 Large Jar of Mince Pie Filling (or other flavor pie filling)
2 Recipes for 2-Crust Pies
1 Beaten Egg
Preheat oven to 450F.
Roll out two crusts at a time. Cut into 4-inch circles with large biscuit cutter or tart cutter for as many pairs as will fit. Place 2 tablespoons of filling in the center of the bottom crusts. With a pastry brush put egg around the edge to seal. Cut a slit or small hole in the top crust and place on top. Press down firmly and seal the edges. Brush with egg. Place the tartlets on an ungreased cookie sheet and bake for 20 to 25 minutes, until crust is golden. Remove from oven and let cool completely on wire rack.
Repeat with second two pie crusts. Yield: About 20 tartlets

Disclaimer: LittleShamrocks.com is an affiliate website that receives commissions from sales of the products listed. We have purchased and sampled many, but not all, of the products on these pages.

© Copyright LittleShamrocks.com. All Rights Reserved.