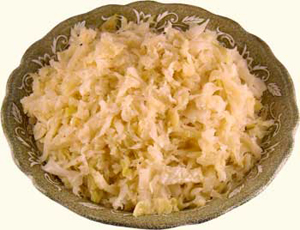 1 Small Cabbage, cored and thinly shredded
1 Stick Butter
6 Tablespoons Water
1 Pinch Nutmeg
1 Teaspoon Flour
Freshly Ground Black Pepper to taste
Melt half the butter in a heavy pot; then add the cabbage and toss until covered with the butter. Add water, cover and cook gently for about 20 minutes. By this time the liquid should be nearly absorbed, and the cabbage cooked. Add the nutmeg, the flour, and stir well; then add the rest of the butter and toss until melted into the cabbage. Add pepper if needed.

Disclaimer: LittleShamrocks.com is an affiliate website that receives commissions from sales of the products listed. We have purchased and sampled many, but not all, of the products on these pages.

© Copyright LittleShamrocks.com. All Rights Reserved.