Hello from LittleShamrocks.com,
I hope that all of you had happy holidays. It is back to work for us here at LittleShamrocks.com. December was a very busy month and the busiest December since we started in 2005.
I received an email from Phil O'Brien that our friend, Arnold Fitzpatrick, from Aughavas, Mohill, Co. Leitrim, passed away from a long illness on Monday, November 29th. Arnold was local scholar and former school headmaster. He was also known as an authority on the ancient Irish language of Gaelic. For more about Arnold, please follow this link:
www.LittleShamrocks.com/Arnold-Fitzpatrick.html
Our heartfelt sympathy goes out to his wife, Kathy, and his family. May he rest in peace.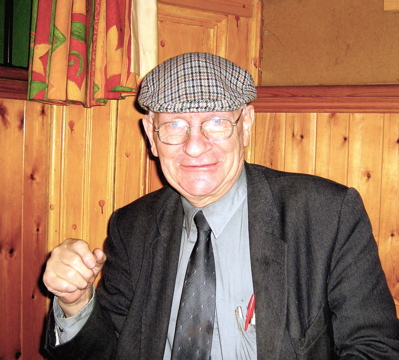 Arnold Fitzpatrick
I have had correspondence from several friends in Ireland who told me that this year the weather is just as bad as it was last year. Remember the story I wrote about our ill-fated trip to Ireland for the holidays last year? In case you missed it, you can follow this link to read about the freak snow storms and freezing temperatures that we experienced.
www.LittleShamrocks.com/Dec_2009_Ireland_Trip

Ronan Gallagher had sent us a song that he had recorded, which is his swing version of White Christmas by Irving Berlin. It could be downloaded for euro 1.50, approximately $2.03. He was trying to reach a goal of euro 2000 by Christmas, which he was donating to the new Cystic Fibrosis center at St. Vincent's Hospital in Dublin. I will let you know if he reached his goal. Click here to please have a listen ... I think it's great!
On behalf of all of us at LittleShamrocks.com, I would like to thank you all for your continued support and we appreciate your business. I wish you all a Very Happy and Properous 2011.
Go raibh mile maith agat! (Thank you very much!)
Sláinte,
Tyna

Disclaimer: LittleShamrocks.com is an affiliate website that receives commissions from sales of the products listed. We have purchased and sampled many, but not all, of the products on these pages.

© Copyright LittleShamrocks.com. All Rights Reserved.