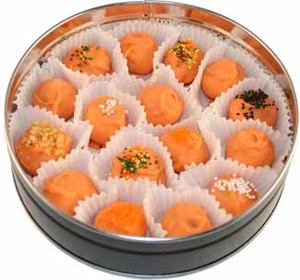 1 1/2 Cup Creamy Peanut Butter
2 Cups Confectioners' Sugar
1 Teaspoon Vanilla Extract
3 Tablespoon Milk (or as needed)
Candy Confectionery Coating, melted
Place peanut butter, confectioners' sugar and vanilla extract into a medium bowl. On low speed with an electric mixer, mix until all is moistened. Beat on medium speed until mixed well, adding milk one tablespoon at a time until you reach creamy but stiff consistency. Roll into 3/4" to 1" balls, place on tray coated with cooking spray and put into the freezer to set. Dip each ball into the melted candy confectionery coating until coated using a toothpick. Place back onto coated tray and put back into the freezer to set. You may sprinkle with nuts or sprinkles while still wet. Place each bonbon into a candy size baking cup and put into a tin or box. Makes 6 dozen bonbons.

Disclaimer: LittleShamrocks.com is an affiliate website that receives commissions from sales of the products listed. We have purchased and sampled many, but not all, of the products on these pages.

© Copyright LittleShamrocks.com. All Rights Reserved.