Irish Cream Pudding Parfaits with Oatmeal-Walnut Crunch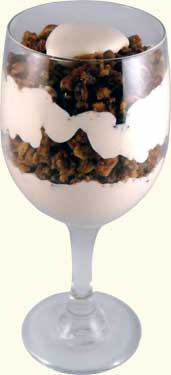 Ingredients for Crunch:
1 Cup Old-Fashioned Oats
3/4 Cup All-Purpose Flour
1/2 Cup Packed Brown Sugar
2 Teaspoons Instant Coffee Crystals
1/4 Teaspoon Ground Allspice
1/4 Teaspoon Salt
1/2 Cup (1 Stick) Chilled Unsalted Butter, cut into 1/2 inch pieces
3/4 Cup Coarsely Chopped Walnuts
Ingredients for Pudding:
1-1/4 Cup Chilled Whipping Cream
12 Tablespoons Irish Cream
3/4 Cup Packed Brown Sugar
6 Large Egg Yolks
1/4 Teaspoon Ground Nutmeg
12 Tablespoons Dried Currants
Preheat oven to 350F.
Preparation:
Crunch:
Combine first 6 ingredients in large bowl. Add butter and rub in with fingertips until mixture forms moist clumps. Mix in walnuts. Sprinkle mixture onto rimmed baking sheet. Bake until golden brown and crisp, occasionally stirring gently and leaving mixture in clumps, about 35 minutes. Cool completely. (Can be made 2 days ahead. Store airtight.)
Pudding:
Combine 3/4 cup cream, 6 tablespoons Irish cream, sugar, yolks and nutmeg in large metal bowl. Place over saucepan of simmering water (do not allow bottom of bowl to touch water). Using electric mixer, beat until custard thickens and thermometer registers 160°F, about 8 minutes. Remove from over water and beat until cool, about 8 minutes. Mix in remaining 6 tablespoons Irish cream. Beat remaining 1/2 cup cream in medium bowl to medium peaks. Fold into custard. Cover and chill at least 4 hours or overnight.
Layer 1/4 cup pudding, 1 tablespoon currants and 3 tablespoons crunch in each of six 12 oz goblets; repeat layering 1 more time. Serve immediately or refrigerate up to 1 hour.

Disclaimer: LittleShamrocks.com is an affiliate website that receives commissions from sales of the products listed. We have purchased and sampled many, but not all, of the products on these pages.

© Copyright LittleShamrocks.com. All Rights Reserved.