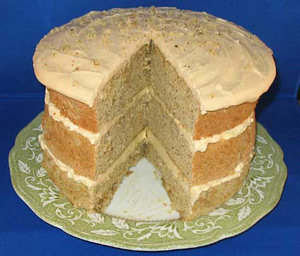 2 Cups Freshly Brewed Bewley's Gold Roast Instant Coffee, chilled
6 Large Egg Yolks
2 Cups Sugar
2 Cups Sifted All-Purpose Flour
3 Teaspoons Baking Powder
1/4 Teaspoon Salt
1 Teaspoon Vanilla
1 Cup Ground Walnuts
6 Stiffly Beaten Large Egg Whites
Orange Filling
Mocha Frosting
Preheat oven to 325F.
Beat yolks till light and fluffy. Gradually add sugar, beating till thick. Sift together dry ingredients; add to yolks alternately with 1 cup of the chilled coffee, beating after each addition. Add vanilla and nuts. Fold in stiffly beaten egg whites.
Bake in 3 paper-lined 9 x 1 1/2 inch round pans in slow oven (325) for 30 minutes or till done. Cool 10 minutes.
Remove from pans; cool completely.
Fill cake with Orange Filling; frost top with Coffee Frosting.
Orange Filling:
Cream 1 cup butter or margarine. Add 2 cups sifted confectioners' sugar; cream well. Beat in 2 tablespoons from the other cup of chilled coffee and 2 tablespoons orange juice.
Coffee Frosting:
Mix 2 cups sifted confectioners' sugar, 2 tablespoons chilled Irish creme coffee, 3 tablespoons butter, melted, and 1/2 teaspoon vanilla. Beat till frosting is of spreading consistency.
Irish Cream Coffee:
1 12 oz Wine Glass, preheated 10 oz. Bewley's Gold Roast Instant Coffee
1 1/2 Jigger Bailey's Original Irish Cream
1/4 Cup Heavy Cream, whipped until stiff peaks form ground cinnamon (optional)
Pour hot coffee into the heated glass. Add the Bailey's and stir well to blend. Top with a mound of whipped cream. Sprinkle with cinnamon if desired.
Yield: 1 serving

Disclaimer: LittleShamrocks.com is an affiliate website that receives commissions from sales of the products listed. We have purchased and sampled many, but not all, of the products on these pages.

© Copyright LittleShamrocks.com. All Rights Reserved.