Irish Cheese Bites with Chutney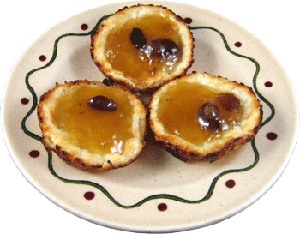 4 Tablespoons Ricotta Cheese
4 Tablespoons Parmesan Cheese
4 Tablespoons Soft Goat's Cheese
1 Sheet Ready-Made Puff Pastry, thawed
Sharwood's Mango Chutney
Preheat oven to 400F.
Put the cheeses into a bowl and mix thoroughly.
Spread the pastry and roll lightly on a floured surface. Using a 2-inch biscuit cutter, cut out 12 circles and place them on an ungreased baking sheet. Prick the pastry with a fork and bake for 8 to 10 minutes or until pastry has risen. Remove from oven and spoon out one teaspoon of the cheese mixture onto each pastry, dividing evenly. Bake for about 5 minutes until the the cheese is melted and browned around the edges. Serve warm topped with a small spoonful of chutney.

Disclaimer: LittleShamrocks.com is an affiliate website that receives commissions from sales of the products listed. We have purchased and sampled many, but not all, of the products on these pages.

© Copyright LittleShamrocks.com. All Rights Reserved.