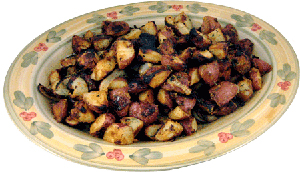 1/2 Cup Lakeshore Strong Irish Mustard or other Spicy Mustard.
1/2 Cup Olive Oil
3 lb New Potatoes or Red Skin Potatoes
2 Medium Onions, sliced (about 1 1/2 Cups)
Chopped Parsley for garnish

Preheat oven to 400F.
Scrub the potatoes leaving skins on, then cut into 1 1/2 inch cubes. In a small bowl, combine mustard and oil. In a large bowl, combine potatoes, onion and mustard mixture, tossing to coat well. Spread evenly on baking sheet.
Bake at 400F for 45 to 50 minutes, or until the potatoes are tender and crispy. Garnish with chopped parsley and serve. Yield: 6 servings

Disclaimer: LittleShamrocks.com is an affiliate website that receives commissions from sales of the products listed. We have purchased and sampled many, but not all, of the products on these pages.

© Copyright LittleShamrocks.com. All Rights Reserved.