Hello from LittleShamrocks.com,
November 1st is All Hallows Day in Ireland, which is also called All Hallowmas or All Saints Day. Roman Catholics, Episcopalians and Lutherans observed All Hallows Day to honor all saints in heaven. It was a day of solemnity as one of the most significant observances of the church year and Catholics were obliged to attend mass. All Hallows E'en, or Halloween, is celebrated the night before on October 31st. Did you have many trick or treaters at your home?
All Hallows Day coincides with the end of the harvest season, when the farmers clean up their gardens in preparation for planting in the spring. This is the time to take advantage of all the squash and pumpkins that are available, especially in America, where we celebrate Thanksgiving Day on the fourth Thursday in November. 
Our Thanksgiving began at Plymouth Colony, Massachusetts, where the Pilgrims had first set foot in the new world in 1620, and where they created a new society after their flight from England seeking more religious freedom. In 1621, the Plymouth colonists and Wampanoag Indians shared an autumn harvest feast, which is acknowledged today as one of the first Thanksgiving celebrations.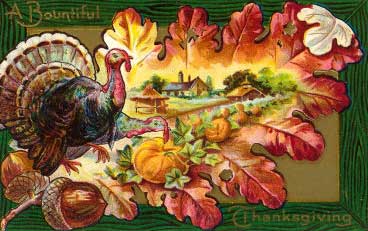 Bountiful Thanksgiving, Turkey on Oak Leaf
A game bird native to North America, the turkey, has become synonymous with Thanksgiving dinner. This feast was actually in keeping with the same tradition of celebrating the harvest and giving thanks for a successful bounty of crops. Most ancient civilizations worldwide, including the Celts, had similar observances to celebrate the harvest, and the tradition was passed down through the ages.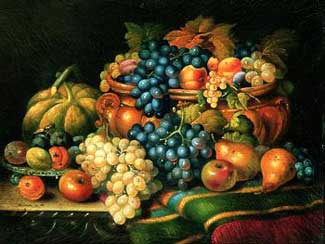 Bountiful Harvest
Native American groups throughout the Americas organized harvest festivals, ceremonial dances, and other celebrations of thanks for centuries before the arrival of Europeans in North America. Thanksgiving Day was designated as a national holiday in 1863 by President Abraham Lincoln, at the urging of Sarah Josepha Buell Hale. Ms. Hale is one of our town's most famous citizens, who was the author of the children's song "Mary Had A Little Lamb". She was also one of the most influential female authors and was editor of several national magazines, including Godey's Lady's Book.
November is also the time that we start compiling our lists for holiday gift giving. This is just a reminder that LittleShamrocks.com has a large array of Irish food gift items, especially gift baskets. At this time of year, cookies and chocolates are packaged for the holidays with festive boxes or tins. We also have many non-food items such as cookbooks, Waterford Crystal and Aran Irish Knit Sweaters. 
| | |
| --- | --- |
| | |
| Celtic Knots | Chunky Irish Potato and Leek Soup |

I had an unusual submission from a lady in Texas. She asked if I could tell her the location of the area known as Treelee, not to be confused with Tralee. She said that she knew that Treelee is the capitol of Southean, but she didn't know where it is in Ireland. I found only two very small mentions of it that were connected. The spelling and grammar is terrible, so I'm not sure if it is a legitimate place. There was something about it being a new country called Morrison, with it's own king. Maybe it is a fictional place. From what I could tell by the mentions, I think it is located in County Cork. If anyone knows anything about Treelee, I would love for you to let me know.

When I write the December newsletter there might already be snow on the ground and the local ski resorts will be open for the season. I will add a couple of holiday recipes for you to try. Towards the end of November, keep your eyes open for one of the recipes, which will be a Traditional Irish Christmas Cake. It is a whiskey fruit cake that needs to be fermented for 3 or 4 weeks. If you wish to make it to be ready for Christmas, you will need to start it by the end of November. I have just started it, so I don't have the photo and recipe on line yet. 

I will also update you on all of the last minute details for our upcoming holiday trip to Ireland. I wish you all a Very Happy Thanksgiving. 


Sláinte,
Tyna

Disclaimer: LittleShamrocks.com is an affiliate website that receives commissions from sales of the products listed. We have purchased and sampled many, but not all, of the products on these pages.

© Copyright LittleShamrocks.com. All Rights Reserved.