Irish Chicken Wings with Guinness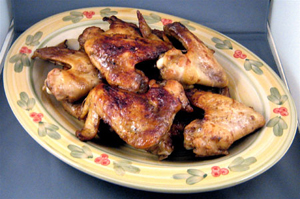 2 Tablespoons Cooking Oil
1 Medium Onion, chopped
2 Cloves Garlic, minced
4 lbs Chicken Wings
1 Carrot, peeled and quartered
1 Parsnip, peeled and quartered
1 Teaspoon Dried Thyme Leaves
3/4 Teaspoon Salt
1/2 Teaspoon Black Pepper
3/4 Cup of Guinness Stout
In a large skillet, heat oil over medium heat. Add onion and garlic and sauté for about 3 minutes. Remove vegetables with a slotted spoon. Add the chicken wings and cook about 5 minutes on each side, until lightly browned.
Add the onion, garlic, carrot, parsnip and spices to the pan. Pour Guinness over chicken and vegetables and bring to a boil over high heat. Reduce heat to low and simmer 30 minutes. Uncover and cook for 10 minutes until sauce reduces by half. Discard carrot and parsnip (or eat them if you want to).
Place chicken wings on a baking sheet and brush with remaining sauce. With the broiler on low, broil for about 5 to 7 minutes on each side, basting the other side when you turn them. Remove from pan, place on a platter and serve hot. These make a great appetizer for your next party.
Note:
Don't discard the remainder of the Guinness...drink it! Slainte!

Disclaimer: LittleShamrocks.com is an affiliate website that receives commissions from sales of the products listed. We have purchased and sampled many, but not all, of the products on these pages.

© Copyright LittleShamrocks.com. All Rights Reserved.